Chasing the Sunset is a West Marches-style exploration game using Fellowship 2nd Edition's Horizon rules.
Rod the Exile
He's a Halfling, but knows nothing of Halfling culture, because he was raised in an evil lab and experimented on. This lab, funded by a mysterious and nefarious organization, kidnaps children and brainwashes them to become spies.  Rod lost the use of his legs, but can harness the power of electricity, which he channels through the shock collar still locked around his neck.  He's been out for about 1.5 years, dumpster-diving and stealing to survive. Tobit the dog is his faithful steed and closest friend.
Sapphira the Spider
She is almost humanoid. She walks upright on two legs ,but has many arms, web spinners, and can spit poisoned needles from her mouth.  Spiders live in fear of each other because they are power-hungry and often resort to cannibalism to consolidate power. Strange electrical current shimmers across their exoskeletons, like that glass sphere toy that sends harmless bolts of lightning to your fingers when you touch it. Spiders can sense each other and communicate via a special electrical frequency. Sapphira carries her babies along with her, which is unusual,since most Spider parents would eat them. She avoids killing if she can help it.
Let's Begin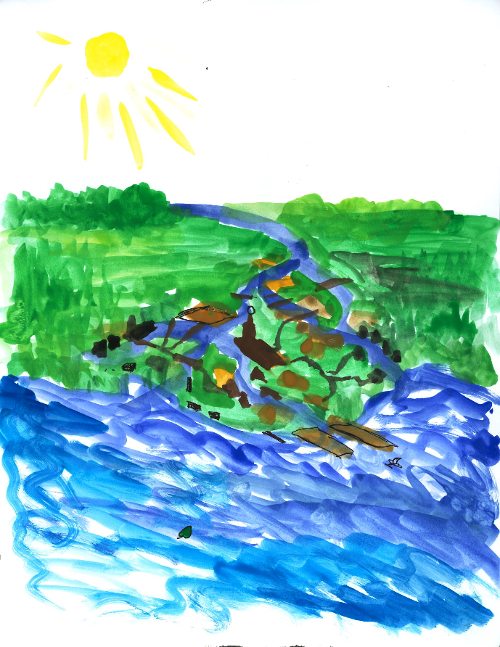 Sapphira, Rod, and Tobit are in Port Fennrick, which is built on the delta of a mighty river. They plan to head up-river to and search for a legendary subterranean Dwarven highway that Rod is sure actually exists.  Sapphira uses her spider silk to make a harness that holds Rod more securely on Tobit's back.  As they approach the back of town, where the river splits into a delta, they see a gate where all travelers are being stopped by officials.  traffic is backed up and people are grumbling.  Rod doesn't want to deal with that at all! he hasn't had good experiences with authority figures or law enforcement.  Our party slips down a sidestreet to hop a fence out of town. It's trivial for Sapphira, since she was walk on walls, branches, and ceilings.  Tobit is not so agile, so she drops a silk line and pulls him and Rod over.
Outside of town is a jungle. Hunting birds circle overhead, looking through the canopy for weak and isolated prey to pick off. Staring into the dense foliage, Sapphira spots tripwires laid by giant spiders. Lowercase S. These are dumb beasts, used as mounts by smaller humanoids.  Disturbing these tripwires will alert spiders lying in hiding to rush out and attack.  Rod manuvers around the tripwires as best he can, but is forced to push through a sticker bush & takes damage.  Sapphira was made for this challenge. She can easily climb into the trees to avoid the tripwires. If no branches are available, she can use a line of her own silk. She also an expert on webs, so she knows where the tripwires are even before she sees them.  She leaves her mark for the other spiders to find, so they know who they were dealing with.
Our party emerges from the jungle next to the mighty river.  How will they travel upriver? For now, they walk.  After a while, they see a raft coming downriver.  It's 40 feet on a side, but piloted by a single Giant using a tree trunk as a pole. The raft is damaged. If it carried cargo, there's none onboard now, and the Giant looks scared and a bit hurt.  Our party hails him to ask what happened and ask for a ride, but he yells something about pirates and doesn't slow down.  Our party decides to wait for the next upriver boat.
They wait a bit longer, and the next boat that appears looks like a Viking longboat, but without the shields along the side: long, narrow hull that rises at the prow and the stern, one mast, and one row of oars on each side.  Sapphira sneakily attaches two lines to the stern and she and Rod let the boat drag them along as if they were inner-tubing, just with no inner tubes.  The boat's high stern blocks them from the view of the boat's crew.  they overhear some chatter from onboard. the crew is worried about pirates. One man goes aloft to the crow's nest to look about and spots the Rod & Sapphira tagging along.  The lookout calls out, but just then the boat hits something! Its forward progress is stopped immediately and the bow is pushed up out of the water!  The lookout falls from his perch to the deck. From their position behind the boat, our party can only see something large, armored, and spiky rising out of the water under the boat.
It's a giant crocodile, covered in metal armor, with an armored platform built on its back. It pulls back from under the boat and faces it, nose to nose.  Nose to tail, this fearsome creature must be 40 feet long.  A small man emerges from the armored compartment and dashes in a loop around the boat, leaving a roostertail spray behind him as he runs across the surface of the river!  He definitely spots our party as he passes by.  He returns to stand on the crocodile's snout and shout to the boat's crew, demanding that they hand over their valuable cargo.
Rod and Sapphira don't want any of this mess, so they disconnect their tow lines and discreetly start swimming to shore.  The small speedy man, who calls himself Slick, notices and zooms to cut them off before they reach the shore.  "Not so fast!" he says, "Stay fight there and I'll get to you once I finish my business with the boat." Poof, he's back on the crocodile's snout.
Sapphira and Rod consider their options.  Sapphira takes a bear trap from her gear and sets it in the water at their feet.  Rod calls out to Slick, saying he's willing to surrender all the cash and jewels he's carrying.  This is music to Slick's ears, and he already has his hands in Rod's pockets by the time the trap snaps shut on his legs.  Slick howls in pain and tries to flee, but the bear trap has his leg stuck.  The armored crocodile hears and responds to its master's cry, charging straight for Rod, which means going under the boat! The hull groans and cracks, crew members are sent flying as the armored crocodile rushes forward in uncontrolled fury. Sapphira flees to shore, but Rod and Slick and the bear trap are all damaged by the attack.  With the trap broken, Slick flees as fast as his legs can carry him, which is incredibly fast. He's out of sight in no time.
Rod ends up on top of the crocodile's armored platform, and squares up to fight the rest of Slick's crew, but the platform is empty. Slick was the only passenger.  Sapphira spits needles at the crocodile's face and eyes to distract it from her vulnerable colleague.  Rod uses the opportunity to charge up and unleash a blast of electricity from his shock collar. Confused and hurt, the crocodile panics and starts swims away, upriver.  This presents a dilemma for Rod who is still aboard. He and Sapphira have been looking for a ride upriver all day, but the crocodile is a dangerous vessel, and Sapphira isn't with him.  He bails out and stays with Sapphira and the damaged boat.
Calm settles over the scene as our party ponders their next steps and the crew of the damaged boat try to recover.  The captain intends to cancel the trip and return to Port Fennrick. Sapphira offers to protect the ship if it will bear her and Rod upriver. She hopes their swift defeat of the pirate crocodile will reassure the crew.  the captain refuses. The boat is too damaged to continue. Half of the oars snapped and many of the crew are injured.  The able-bodied will be bailing water the whole time that the current bears the boat back to Port Fennrick.  During this recovery period, Rod shares a meal with a sailor named Cooper and forges a bond with him.  Cooper says that if Rod ever needs anything, he'll be in Port Fennrick, ready to help.
Eventually the boat departs and Rod and Sapphira once more start walking upriver.  Rod is looking for evidence of a secret underground transportation network that he heard was built by the Dwarves long ago.  After hiking upriver for miles, he spots something odd.  A rock on the riverbed shifts up for a moment and air bubbles out from beneath it.  Observing it for a while indicates that the rock conceals a valve that is regulating the air in something hidden below.  Rod looks around and finds a large rock on the riverbank that conceals a spiral staircase leading down into darkness!