Chasing the Sunset is a West Marches-style exploration game using Fellowship 2nd Edition's Horizon rules.
The party: Buckle the Platyperson, Agnes Nutter the Harbinger, Stella the Halfling, Rook the Remnant.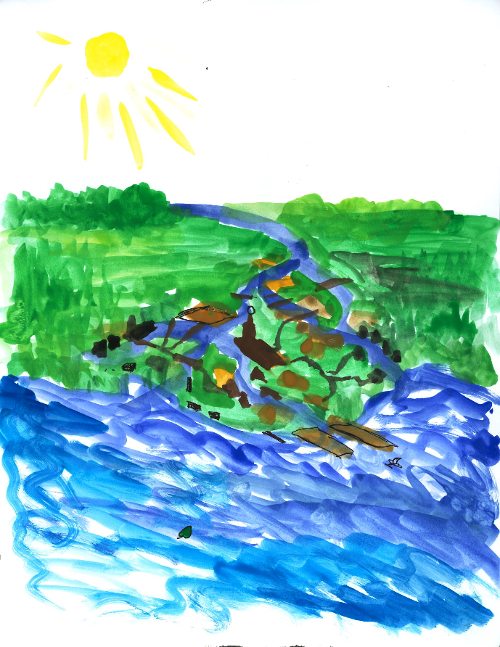 Buckle, Agnes, and Rook have just limped into Port Fennrick on a damaged fairy-ferry that was attacked by a Kraken.  Fafnir the Dragon was also onboard, but is nowhere to be found now.
GM Note: Fafnir's player wasn't here for this session. One of the concepts for West Marches is being able to mix and match characters into different groups, so I didn't want to make a big deal of a character's absence, but that's what the players wanted to role-play, so we did it.
Rook is especially worried by Fafnir's absence, since they was dedicated to caring for dragons in their former life.  Agnes magically senses that Fafnir is fine, and says not to worry.  Rook isn't happy about this and drags their feet as they floats down the road after her. The party doesn't know what's going on in town and looks around for excitement. There's a commotion at the back of town, where the Mighty River enters. They get closer and see a Giant yelling about pirates upriver.  As people listen to the Giant's story, a damaged longboat arrives with its own story about a battle with pirates.  People waiting at the checkpoint to go upriver start complaining to the inspectors.  "You say these inspections and regulations are for our safety, but you can't keep us safe from these pirates! Why are you even here? Get out of our way!" The party decides not to get involved.
It's evening, so they go to a tavern for food and a room for the night.  Stella, the newest player character, has some space at her table in an otherwise crowded tavern and invites the party over.  Rook sort of floating through a chair, but can't really sit in it.  Introductions all around. Stella is a halfling. She's traveling with two friends and a giant riding spider which is out back in the stables.  At another table, Sebastina (navigator of an ill-fated charter boat) tells of her brush with the Kraken.  She never saw the beast, but our party knows exactly what she's talking about, because they fought and killed it. Buckle interrupts to tell his story, but he's not good at public speaking, and the crowd shouts him down.  He buys a round of milk, which also does not endear him to the hard-drinking crowd.  He does get a big reaction when he says he was traveling with a dragon, since dragons have been extinct for about 100 years.  The rest of the party decides that Buckle shouldn't talk anymore and drags him away.  They pile into Stella's crowded room upstairs for the night.
In the middle of the night, two figures slide open the window and creep into the room where everyone is sleeping. Rook isn't sleeping, because Rook doesn't sleep. They screams, waking everyone up.  Stella is near the window and grabs one of the figures clambering through. She pulls him into the room, but he rolls with the movement and throws her to the ground.  Agnes shoves the second figure out of the window. He stumbles off the roof of the porch and falls to the street below.  The one still in the room grabs Stella, but Buckle makes him drop her with a tail-swipe.  The invader turns his attention to Buckle and jams a canvas sack over his head.  The invader is human-sized, and Platypeople are only four feet tall, so the invader has a big weight advantage. As he struggles to fit Buckle completely in the bag, Rook floats through the window after the second figure. Rook is alone in the dark with an enemy, and, using their terrifying ghostly powers, silently rips the life out the would-be kidnapper. Back in the room, the kidnapper has Buckle in the bag and tries to toss the bag out the open window. Agnes steps in a blasts the kidnapper's leg, wrenching it into a very unnatural position. Snek (Agnes' pet flying snake) enlarges and coils around the disabled kidnapper, flicking its tongue in his ear.  The kidnapper is unmasked and must explain himself.  Outside, Rook casts Speak With Dead on the other kidnapper ot gather mostly the same information.
the kidnappers were sent to grab Buckle and bring him to the boss, because Buckle knew about a dragon, a rare and valuable prize. The boss is Louie, and he runs the underworld here in Fennrick. Anything that's not above-board belongs to Louie. The live kidnapper that's being constricted by Snek is Johnny. The other one that fell out fo the window is Jimmy. Agnes takes Johnny's ring that marks him as a member of Louie's gang.  She says that if Johnny crosses them again, she'll find him, and she won't be so kind.  She heals his leg. The ruined flesh grows back brand new, pale as a Seattlite, soft as a baby, and hairless.  Snek releases him and they send him out the window. Rook returns at the same time and passes through Johnny, an unpleasant cold sensation.  Johnny finds Jimmy's dead body, and, keeping to secret gang traditions, disposes of the body. Only Johnny and Rook know that Rook killed Jimmy. No one else saw anything.  Stella's friends keep watch for the rest of the night, but there are no further disturbances.
In the morning, Stella shares her Halfling food with her new friends. Buckle wants fresh game, so he swims under the city to catch some fish. Port Fennrick is built on a river delta, so most buildings are built on stilts over water.  As he pursues fish, he realizes he is being pursued by a Mermaid with a trident and net. A mermaid mermydon. A mermaidon! he outswims the Mermaid and reaches land, where the mermaid can't follow. He rejoins the party without fish.  Agnes holds Johnny's ring aloft to see through is eyes. He's on a road, holding a bag. He looks over his shoulder, and Port Fennrick is receding in the distance. Johnny skipped town.  Agnes wants a possession from every party member so she can see through their eyes. Buckle doesn't have many possessions. He won't give up his hat, and doens't like the idea of cutting off a lock of fur. He offers a treasure that he took from the Kraken, but Agnes just whips out her runeblade and takes a tuft of fur. Stella refuses to give her a possession.  (These new friends of hers are a lot!)  They linger and ponder their next step until the innkeeper knocks on the door. The inn is busy and need to either pay for another night or make way, because other people want the room.  They leave, and decide to track down the mob boss that keeps sending goon after them.