Chasing the Sunset is a West Marches-style exploration game using Fellowship 2nd Edition's Horizon rules.
Party: Agnes the Harbinger, Lumen the Lantern, Melvin the Rain, Rook the Remnant
GM note: In the original West Marches, it was easy to have new characters team up, because everyone went back to a single home base. In Chasing the Sunset, characters can be in different places, and we players must contrive ways for them to meet in a single place.
Lumen (last seen on a racing yacht docked at Port Fennrick) has a problem projecting herself into reality and uses Melvin as a beacon to pull herself back into this dimension.  Melvin, fresh from busting up mafia headquarters, still wears the form of one of the gangsters, and Wallace, Agnes' new dog, recognizes him and runs back to him. Agnes and Rook run in after Wallace a short time after. Lumen asks Agnes "Do you know this dog?" Agnes asks Wallace, "Do you know this being?" But they make introductions and realize that they are follow adventurers and should go on adventures together.  Melvin tries to shake Rook's hand, but the shapeshifter and the ghost can't touch each other.  But what adventure should they seek? Lumen swore to protect Jensen from the shady people that she was smuggling contraband for, but the mafia is already destroyed. Agnes and Melvin saw to that. They decide to head upriver, and try to get a ride from Jensen. She would help, since she owes them for saving her from the mafia, but her boat is wrecked, so she can't.
Our crew heads for the mouth of the river to look for a boat that could give them passage. There's a raft piloted by a giant, and a longboat with a crew of humans. Agnes gets a doomy sense from the longboat, so they choose that one, and exchange work for passage. Melvin uses his Rain powers to clean the boat, while Rook floats above and keeps watch.
Agnes checks in on Johnny, the mobster who has been fleeing upriver for some time. There's interference in her vision, like the interference when two Harbingers are close to each other. Through the interference, she sees a crowded city with narrow streets.  That's Thaumatown, and the longboat is headed there.  Agnes doesn't want to go to a town with another Harbinger, but she'll go anyways. Anything could happen.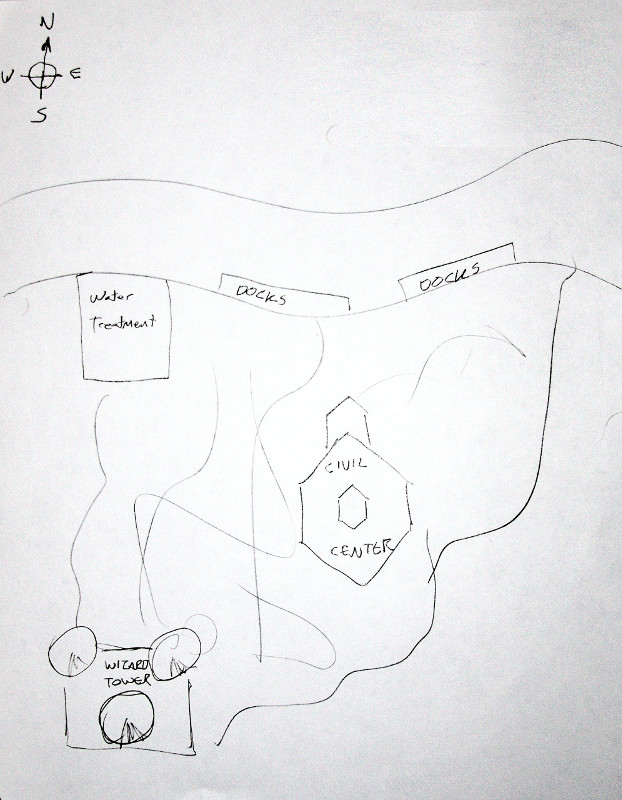 Thaumatown is a crowded, bustling city. There are clockwork robots everywhere. Automatic cranes load and unload boats at the docks. Flying surveillance drones watch everywhere, and police robots expertly direct traffic to keep the crowded streets moving. The streets are narrow and the buildings loom over them, so they sky is barely visible.  Two towers are visible over the roofs of the other buildings: a large clock tower on the civic center, and a wizard's tower on the far side of town.
Melvin drops into the water to look around while the rest of the crew disembarks like normal people. The police robots direct them like they direct everyone, but it seems the robots are taking a special interesting the crew. Melvin finds some big pipes taking in water from the river, and dumping water into the river, He swims up the pipes into a water treatment center. His formless body can squeeze through the filters, but it will take some time. As he's squeezing through, he sets of water quality alarms, and someone is coming to investigate, so he abandons his search of the water treatment plant and flows through other pipes under the city.
Some police robots approach Agnes and tell her to follow them. They clear crowds out of their path, quickly leading Agnes, and Lumen to the civic center. In the central chamber of the civic center, there's a piston rising all the way up the clock tower. This piston retracts, and on the end is a fancy chair, and in that chair, Brainiac, who controls all of the robots, and thus the entire town, from this central location.
GM note: Not the comic book character. A very smart man.
Brainiac explains that he works for a wizard, an amazing man who can see the future! He foresaw that one day another Harbinger might come and threaten his rule, so Brainiac devised a plan to ensure the stability of the town.  Brainiac gestures, and a police robot brings a weird hinged cage, like a tea strainer, but two feet long, up to Agnes. It's like a Faraday cage for magical powers, and will block the interference that Anges is causing the wizard, and vice versa.  Brainiac demands that Agnes wear the helmet!
The crew decides to go loud instead of accepting captivity! Lumen's light flashes ,temporarily blinding the police robots and surveillance drones, but Brainiac was prepared and sends the surveillance drones crashing into Lumen's last known location. She didn't move, so she's hit.  Melvin arrives at the civic center and lets Rook in.  Rook floats in and whispers spookily in Brainiac's ear.  Lumen starts fighting the police robots with her knife and light. In the melee she drops her knife and smashes her bare hand into the unyielding armor of a police robot.  Brianiac raises his chair to escape to the clock tower, and Rook floats up after him, but Brainiac is prepared and activates an electric grid beneath his chair, zapping Rook & stopping his advance. Brainiac arrives at the top of the tower, where huge control panels and screens are arrayed before him, letting him control everything in the city. He's sure to call in reinforcements.  Agnes uses the ley lines to reach out from Brainiac's position, flipping switches and yanking wires. Traffic goes haywire as the police bots malfunction and direct people into impossible patterns.
At this point, the wizard decides to step in. A beam of energy from the top of his tower cuts across the twon and into the side of the civic center, burning a spiral pattern through the wall and into the floor, widening and widening until Agnes is hit! The harbingers interfere with each other's vision, so Allan a Zham had to fire blindly towards the densest static in his vision.
The tactical situation changes in an instant. The crew needs to close the distance since they can't match Allan's power at range. Lumen's light moves to shield Agnes. Melvin causes a fog to appear, hampering Allan's vision. Agnes puts on the Faraday cage helmet, so she disappears from Allan's view.  Lumen, Melvin, Rook, and Agnes all fly, float, or clamber over rooftops and across alleyways towards the wizard's tower and Allan continues to fire on them.
Rook is floating straight in, confident in his incorporeality, when a flask of holy water teleports right on top of him and bursts! Agnes is flying on Snek, Allan's attacks force them down below the roofline, towards police droids!  Melvin and Lumen are running over rooftops together and a fireball explodes under them just as they leap from a barbershop!  Barbers are thrown through the air with a perfect four-part harmony of screams! Clients stagger out of the rubble, haircuts burned away.  Melvin and Lumen are singed, but escape further fire and confront Allan a Zham in his sanctum at the top of his tower!  Windows look out over the city. Screens show camera feeds from surveillance droids. Maps, scrolls, and books are stuffed into shelves and piled on tables all over the room.  Allan is furious! HE knew that someday someone would come to overthrow him, and now these adventurers have come even to his inner sanctum. He will tolerate no threat to his power!  Melvin causes rain inside, soaking reams of irreplaceable magical research. Allan is momentarily distracted by the destruction, and Lumen seizes her chance!  She uses her survival knife as a focus for her Light, and fires it with laser precision into Allan's head, killing him instantly!
Down on the streets, Anges is receiving conflicting instructions from two malfunctioning police robots. One orders her to take a path blocked by the second, which tells her to turn around. They will get rough if she doesn't obey, so she stalls for time and starts a fire inside the second robot. When it is too damaged to insist, she obeys the first robot and just walks away.
The whole drew assembles in the wizard's upper room. Most of the papers are ruined, but there is one note about twin volcanoes. Sure enough ,the two peaks are visible to the south.  Rook speaks with the spirit of the slain wizard, asking why he attacked them. Allan wanted order above all, and proactively removed anything that could cause upheaval or disruption.
Melvin shape-shifts into the exact likeness of the wizard and leads the crew back to the Civic Center. Allan a Zham had a "I can do what I want" badge, and flashing that to the police robots allows Melvin to ignore their senseless, contradictory orders. The citizens of Thaumatown are not so lucky.  One group is being sent in a never-ending circle by a few police robots, and an automated crane on the docks just shoved and entire shipment off the deck of a boat and into the water.  Brainiac has put the Civic Center in panic mode. Big metal shutters cover all the doors and windows, and a Stone Sentry has been activated inside to eject any trespassers.  The crew gets onto the roof and climbs up catwalks to the outside of the clock tower.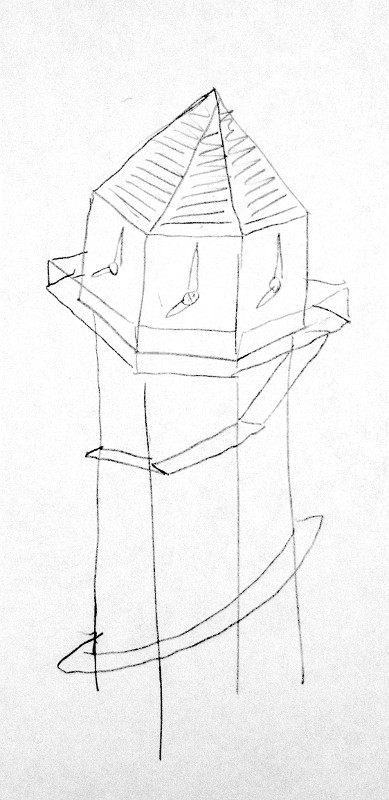 The clock faces are transparent, and they can see Brainiac desperately trying to regain control of the city.  Brainiac is suprised to see the wizard with some of the troublemakers, but Melvin assures him that it's fine. Brainiac opens the window and lets them in. He gives a situation report to Melvin, who he thinks is his boss.  The damage is severe, but in another six hours he cna have the robots back to 65% efficiency. Brainiac requests that Allan a Zham lend his magical aid, since the situation is so dire.  Melvin says, "Are you implying you're not up to the task?" Brainiac is cowed and promises to work even harder. Lumen whispers "You should fire him" to Melvin. Melvin agrees and tells Brainiac he's be reassigned because he's handling this crisis so badly.  Melvin hands over the paper with the twin volcanoes on it and tells Brainiac to go take care of it.  Brainiac pushes back a little. It's such a long and dangerous journey that he's going to take a surveillance drone. That way, he can call for help if he needs it. Melvin agrees to these terms, having no intention of actually helping if Brainiac gets in trouble.
Finally, Melvin appears to all the people on the docks. He says that the people are strong and capable. They no longer need rulers over them. He tells them to elect representatives, then walks out onto the water and sinks in. The rest of the crew also slip out of town, which has no king, no overseer, and whose overcrowded streets are jammed with malfunctioning police robots.