Chasing the Sunset is a West Marches-style exploration game using Fellowship 2nd Edition's Horizon rules.
The party: Buckle the Beast/Heart of Earth, Stella the Halfling/Pack Leader
Last time, Buckle absorbed the Heart of Earth, a source of power that caused a mine full of mining robots to go rampant. He accepted the Heart of Earth in a desperate moment: pinned under the red-hot body of the Robot King and the Heart of Earth dangerously unstable without containment.  When Stella shoved the Heart of Earth down his throat, a burst of energy rippled through his body, empowering him to shove the giant metal husk aside. He stands up and opens eyes that glow like fire, no pupils or irises. He looks down at his burning hands, then up at Stella.
Stella: Buckle, are you OK? You're on fire.
Buckle. That was a rush. I feel fine though.
GM note: Heart of Earth is a custom Destiny that replaces Buckle's Apex Destiny. It's mostly the Firebrand Destiny, but with advantages & disadvantages like the Remnant, and a few life-related moves, since the heat of the earth brings life as well as fire.
Buckle's body is hot enough to ignite flammable objects with a touch, and he shines like a campfire. Stella considers carrying a "Buckle Bucket" around to douse anything he accidentally torches.  Buckle considers getting a non-flammable leather coat to hide his brightness. Such a coat would allow him to literally flash people.  Camping out discreetly in the wilderness will also be difficult. Stella considers throwing a chain over a tree branch and hoisting Buckle aloft to pretend that he is the moon. That's too similar to hanging for Buckle's comfort.
OK, but what's going on here in the mine? After the destruction of the King Robot, the group of mining robots that were guarding it and attacking the party have turned to collect ore.  They don't speak or respond to speech.  The robots are finely crafted to look like metal dwarves, but without the influence of the Heart of Earth, they seem capable of only simple actions. Stella and Buckle explore the mine to figure out what happened here. The tunnels twist and branch, but Buckle's excellent sense of direction prevents them from getting lost.
Stella Look Closely 7-9
Stella can see two distinct styles of excavation. Up to the chamber where they found the King Robot, the tunnels seem like a normal mine for metal ore, but after the Heart of Earth awakened the King Robot, the robots started mining in different patterns, ignoring the directions of the living Dwarves, who apparently fled. There are no signs of recent living Dwarf activity. The only control or interface to the mining robots is a dial on the robots' back, under the backpack/hopper in which they collect ore.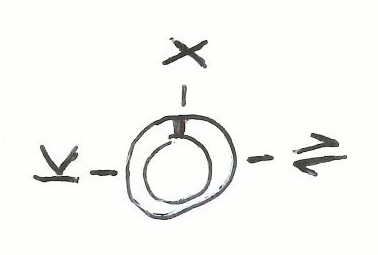 Buckle reaches for the dial on a robot. Stella thinks smacking his hand away would be insufficient, and tackles him out of the way. Stella thinks they should talk about it before messing with anything.
Stella: Which glyph is your favorite?
Neither of them can read Dwarvish, so they have to guess at the glyphs' meanings. Buckle likes the arrows. Maybe the robots pass each other.
Stella: OK, smarty-pants. What do the other glyphs do?
Buckle thinks the left glyph might make the robot put everything down. Stella decides to try it out on an isolated robot. She tells Buckle to stand some distance away in case of trouble. She reaches out to turn the dial to the left, and the robot, sensing her approach, reaches back to swat her away!
Stella Overcome 7-9
After knocking Stella a few paces back, the robot returns to its task. She decides to leave it alone.
Stella: Buckle, wanna give it a try?
Buckle: Maybe it's good I didn't touch it.
They look for the living quarters of the missing Dwarves.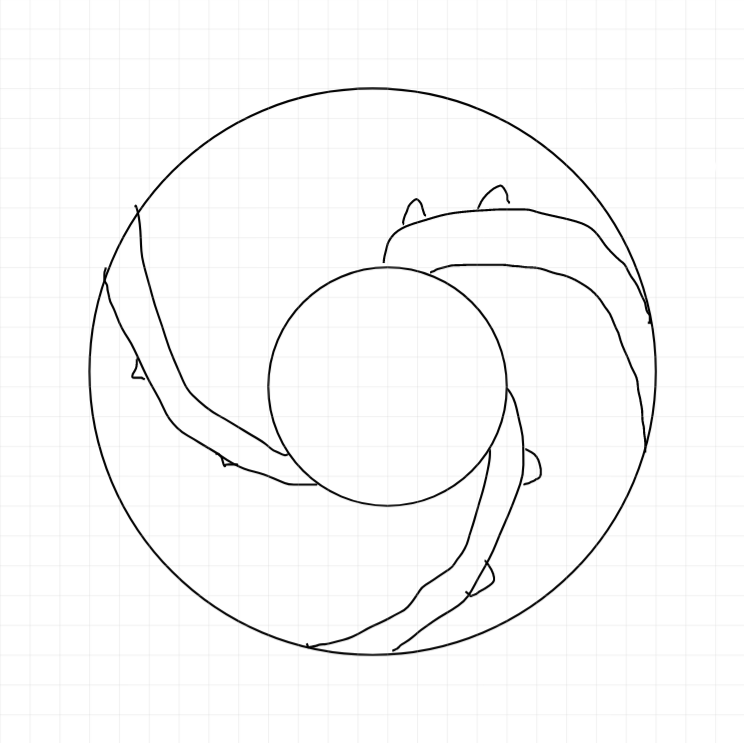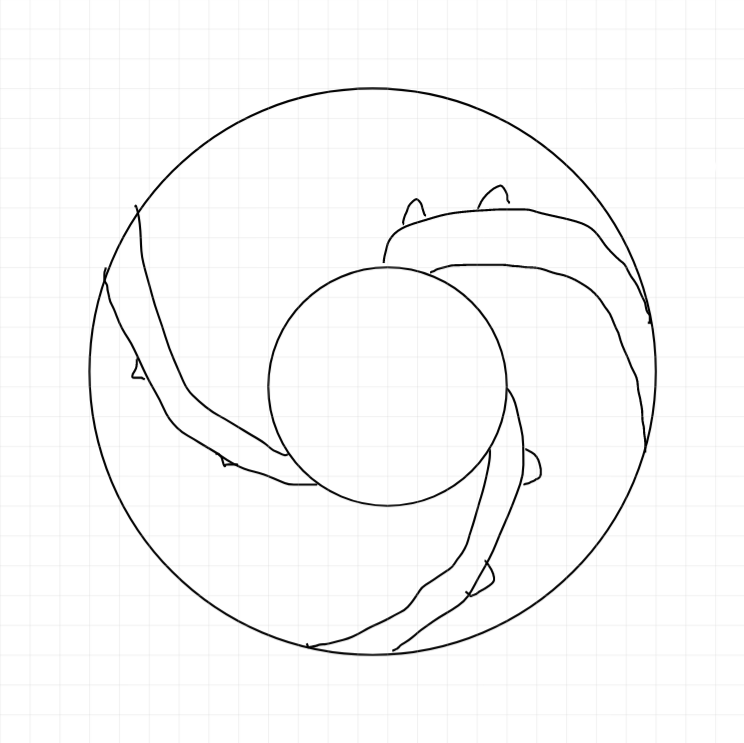 Dwarves prefer to live underground. The depth of one's dwelling is a sign of privilege.  The living quarters of the working class Dwarves who used to operate this mine are right below the flat bottom of the shallow-funnel-shaped mine. The furniture and items in these barracks look quite old. The mining robots did not go rampant recently. New tunnels cut through the barracks, not with intent to deface or destroy them, just because that was the most efficient route. The rampant robots drove the Dwarves away, but did not seem to have any particular antipathy towards them.  Buckle finds a manual and picks it up. It bursts into flames from his super-heated touch. He drops it and stomps on it, but that only makes more flames! He decides not to touch any more books. Stella looks around at the books and posters that survive, but she can't read Dwarvish.  Ugg's a technical fellow. he has to maintain his robotic arms.  But Goblins don't usually mingle with other cultures, so he doesn't read Dwarvish either. Also, he almost died in a fight just a few minutes ago. He squints at some diagrams through a swollen eye, but he's in no shape to help.
Buckle Look Closely 6-
Buckle tries to find some kind of command center, and falls through a weak patch of floor!  Stella assumes that he burned through, but that area had been undermined by a rogue tunnel. He did land in some sort of command center, and when the party joins him, they discover a log book (in Dwarvish, of course) and a regional map! They can't read the place names, but they recognize places they've been recently.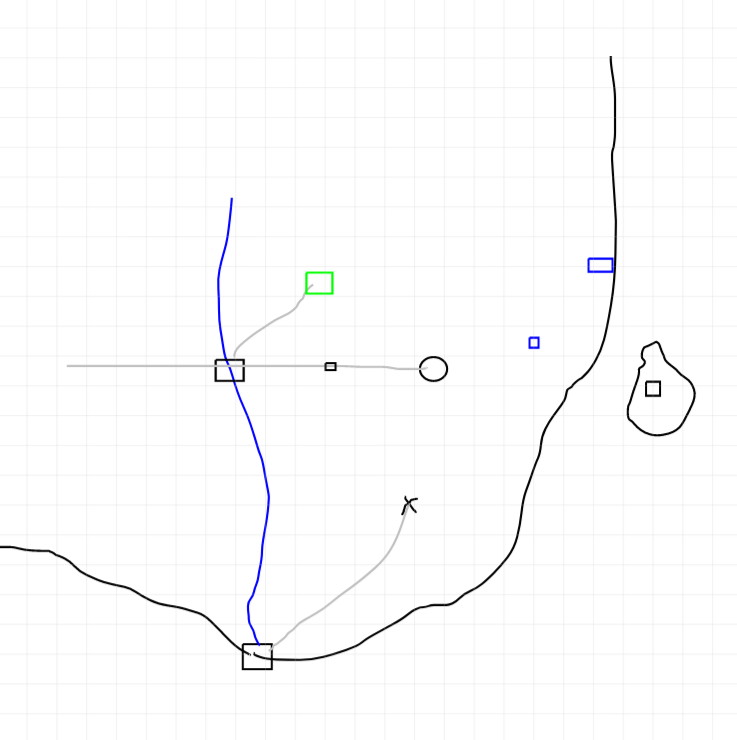 The X represents the mine. The circle due north must be Templeton, and the square to the west of Templeton must be Sugar's Crossing because it's on a road (grey line) and river (blue line) There's a road leading from the mine to this port city that they haven't visited. Maybe the Dwarves fled there, and they can go find them.
They prepare to leave the mine, and check in with the giant Dung Beetles before they go. The Beetles don't recognize Buckle. He's changed so much!  The Beetles are grateful that the robots will no longer break through and threaten the Beetles' caverns, and offer the party the choice of several gifts:
Fellowship of the Beetles earned!
a big pile of nutritious mushrooms
knowledge of other Dwarven tunnels that lead to new places
An old Siege Tank, found in an abandoned tunnel
Besides the obvious benefits of armor and weapons, an enclosed vehicle can conceal Buckle's bright glow.  The party accepts the Siege Tank from the beetles, and they all pile in and set out for the port city.
New companion: Siege Tank
Spikes And Steel
Heavily Armored
Secret Weapon
The road to the port has not been used in a longtime and has fallen into disrepair.  Parts are washed out. Bushes grow in the path. Tree roots distort what pavement remains. The Siege Tank rolls over all of it easily. It's not much faster than walking.
Near sunset, as Stella drives the tank toward the pink and yellow horizon, Dark shapes appear on the road, silhouetted by the setting sun. There are about five of them, but they are backlit and hard to see.  They demand the vehicle halt, although their bearing doesn't quite match their authoritative demand. Stella tries to think of a plan and the tank slowly approaches the dark figures. Silk is too weak from the last fight to help now.  Buckle opens the top hatch and climbs on top of the tank. With burning eyes, from the top of a war machine, he tells the figures on the road to move.
Buckle Talk Sense (impress with Grace) (Stella gives Hope by not stopping) 7-9
The figures shrink back into the brush on either side of the road.
Figure: We were only trying to warn you. Stay low!
The tank proceeds unhindered. Sometimes the next day, the tank crawls through a pleasant landscape.The sun is shining. The birds are not singing. There are no birds. Weird.  Up ahead, one of the hills is missing its top.There's a flat scorched area where the rounded apex should be.
Buckle: Look at that former mountain.
Stella: It had a bad day. Or a bad haircut.
Stella drives the tank towards the hill to investigate, with Buckle on top as a lookout
Stella Look Closely (+Hope from Buckle) 7-9
Clearly whatever sliced through the hill was very powerful and very hot. Buckle's immune to heat, so he'd be fine, but everyone else would avoid it, whatever it is. As they drive around the damaged hill, they see a castle made of ice! Getting closer still, they see the castle rests on the back of a giant turtle, flippers spread out across hundreds of feet, eyes closed.  A turtle's chest won't rise and fall with its breathing. Their ribs are fused solid to form their shell, but the party can tell its breathing by looking at its nostrils. This enormous creature is asleep.
Buckle: Do you think the king is home?
Stella: That's presumptuous. I'm sure the queen has it under control.
Buckle: Wanna find out what burned the mountain?
Stella: It's not the craziest thing we've done recently.
They leave the tank and their companions a polite distance away and walk up to the castle. They are greeted at the gate by Gertrude, a beautiful woman made of clear, sharp crystal. With her every movement, little rainbows shimmer and dance around. Stella elbows Buckle.
Stella: Told you. Queen.
Gertrude is happy to see them. They ask about the hill. Gertrude says it's fortunate that the hill is there, since it provides for Bertha (the turtle) so she can sleep in safety. Gertrude is trying to put a cheery spin on everything, but it becomes clear that Bertha and Bernard's castle were forced down by a powerful beam weapon fired from nearby. Buckle elbows Stella.
Buckle: Bernard's castle.
Gertrude invites them in for an audience with Bernard. When buckle steps onto the castle, he starts melting the icy flagstones, leaving webbed-foot-shaped puddles. Gertrude gasps and fires a high-pressure jet of water from her body, pushing Buckle back outside in a cloud of steam. She's embarrassed by her outburst and very apologetic, but Buckle's fine. Stella will go meet Bernard, and Buckle will wait outside.  The other inhabitants of the castle are also humanoid-shaped, but seem to be made of ice or snow. Bernard is a large man, all polished facets of ice, with a crown of ice crystals (probably part of his body) on his head. He is formal but direct, a strong contrast to Gertrude's customer service voice.  He explains that they were flying over the land (It's always nice to explore new lands) when they saw a glint or shimmer from the ground, It was bright, almost a second sun. That's the source of the beam weapon that hit Bertha, and forced them to take shelter behind this hill. Stella agrees to check it out.
Stella: Anything else?  Are you urgently leaving the planet?
Bernard: Ha, we only arrived a generation ago!
Also, Bertha is taking a nap, and won't wake up for a day or two, so the castle can't move before then.  Stella asks for a token of goodwill to give to whoever owns the beam weapon, to show that Bernard & his people are not a threat. Bernard thinks for a while, then produces a gem. It's smooth and clear, like Gertrude, and rainbows shine on his hand as he holds it. There's a slight enchantment on it. When Bernard opens his hand, the gem rises slightly and floats an inch over his palm, but it's easy to hold. Stella takes the gem and goes back out to Buckle.
GM note: Bernard isn't as friendly and helpless as he appears. He sent stealthy assassins out with orders to kill whoever Stella gives the gem to, since she's going to give it to the person who shot down the castle. I didn't the players about the assassins.
Stella asks Buckle to go look over the top of the hill, since he probably won't get burned. Buckle pokes his head over the crispy edge of the hill. Nothing happens. He stands on top of the hill. Nothing. He jumps around, but still does not draw the ire of whatever is out there. he does see a shimmer about a mile to the north, roughly where Bernard described the beam weapon firing from. Since it's apparently safe, Stella joins Buckle at the top of the hill and also sees the shining light.  She explains the plan she and Bernard discussed, and shows Buckle the gem. Buckle reaches out to grab it, but Stella snatches it away.
GM note: That was close!
Buckle and Stella return to the Siege Tank and drive it over towards the site of the beam weapon. As they approach, they see an huge hexagonal mirror, 100 feet across, suspended between two giant crabs, each the size of a house. On the ground behind them, a humanoid Spider (segmented exoskeleton, walks upright on two legs, six arms) pulls on reins for the crabs, and a series of wires connected to metal girders on the underside of the mirror.  Stella and Buckle leave the tank a polite distance and approach on foot. If this does not go well, blasting things with the Seige Tank's secret weapons is a fallback plan.
They are about to introduce themselves when the Spider (his name is Agate, pronounced uh-GAH-tay) spots a bird and excitedly motions them to watch. With the reins, he directs the crabs to aim the mirror towards the bird, then pulls the wires attached to the mirror to focus the reflected sunlight into a deadly beam. Poof!  The poor bird is destroyed.
Stella: Impressive.
Agate: Thanks, I'm great.
Stella clenches her fist in frustration. They ask about his contraption. He's been practicing with it ever since he found it. As far as he knows, this mirror fell out of the sky. They mention that they saw a similar mirror on their travels.
Agate: There's another? You left it? You gotta take whatever you can get!
Stella: Why do you attack flying things?
Agate: Because I can't reflect sunlight down. Sun shines down, beam bounces up. But if I had two mirrors… Where did you see that other mirror?
Stella: We'll get to that later. But first, do you hate Bernard?
Agate doesn't know what she's talking about. She starts to talk about the flying castle and he interrupts. Shooting the castle was so cool. He cut off a whole tower before it dropped below the horizon. It's not every day a target like that presents itself, so he jumped at the opportunity.
Stella: You like reflecting the sun. What about refraction?
Agate: It's all good. Whatever works.
Stella shows him the gem. It's beautiful! Agate fires a webline to snatch it away from her.
Stella Overcome 6-
She tries to close her hand, but he's too quick!
Buckle Overcome 10+
Buckle grabs the webline, which burns instantly. The gem falls to the ground.
Buckle: First you have to promise not to shoot down the castle. You've heard of a deal, right?
Agate: Yeah, yeah. A deal is for people who aren't strong enough to get what they want, so they have to trick people into getting what they want.
Buckle: Well, here's how you trick us into giving you the gem. Promise you won't shoot down the castle.
Buckle Talk Sense (sense, a plan) 10+
Agate promises. Stella picks up the gem.
Buckle: You get the gem after they fly away.
Agate: Fine. Hurry up!
Stella and Buckle return to the castle, where Gertrude and Bernard await them.
GM note: The assassins were so very close to attacking, but no one ever took the gem except Stella. True to their orders, they stayed hidden.
Stella explains the giant mirror weapon to Gertrude and Bernard, and how Agate doesn't even care them. He just wants things to shoot at, but the gem has enticed him to promise safe passage. Buckle suggests that the castle could produce a lens of ice to counter Agate's beam weapon. Gertrude is offended by the suggestion that the principle that makes her sparkle and brings joy and hope to all around her, should be harnessed as a weapon of destruction! Buckle reassures her that it doesn't have to be a weapon. It could be used defensively to disperse or refract Agate's beam weapon.  Stella is impressed by Buckle's vocabulary and knowledge of optics. He shrugs. They have science class in the Platyperson village. Bernard assigns some people to work on a lens. He is surprised that Stella did not give Agate the gem.
GM note: You know, so his assassins could kill him.
Stella says that Agate is untrustworthy, and perhaps Bernard should drop the gem as the castle flies away.
Stella and Buckle return to the Siege Tank
Stella: How do you feel about that Spider having access to mirros? Maybe we play a prank on him.
Buckle: Pranks are fun.
Stella: maybe more serious than a prank.
They are still half-dead from fighting squads of invulnerable robots earlier, so Stella serves a feast to heal herself and her companions, while Buckle goes fishing to get food for himself and Ugg. They wait until nightfall before making their move.
Stella: It concerns me that a being so careless and egotistical could have so much power.
They will destroy the mirror! But how? It's a huge structure of metal and glass. Buckle can scorch the reflective surface, or heat it until it warps, but he can't blow it up. The tank could blow it up. They could try to steal it, but they'd have to steal the giant crabs as well. It's too big to carry otherwise. Buckle can talk to any beast. Maybe they talk to the crabs and set them free. They're not sure where Agate will be when they arrive, but Buckle's electro-sense will be able to find him at close range. To use electro-sense, Buckle will have to exit the tank, so he'll light up the area, alerting Agate.
Stella: We need a plan. When Buckle sticks his head out, We'll have to go quick.
Stella drives the tank to within shouting distance of the giant crabs. Buckle pokes his head out of the hatch, shining bright light all around. He senses agate in a hammock on the underside of the mirror. He's stirring, but he won't be able to act for a moment. Buckle tells Stella that the Spider is in a hammock, then tells the crabs that he's come to set them free and return them to the ocean.
Buckle Talk Sense (sense, desires) 10+
The crabs like that idea, and start cutting the webbing that secures the mirror to their backs.
Agate: No, no, no!
Agate runs upside-down on the underside of the mirror firing webs to replace the ones being cut by the crabs.
Stella Keep Them Busy 7-9
Stella rides Silk up the leg of a crab and barrels into Agate, knocking him down to the ground.  Buckle climbs up onto the mirror, throwing black powder around, setting fires, and trying to warp the mirror with his burning footsteps
Buckle Finish Them (sense, disable) 7-9
The mirror flexes and warps, but it's basically still in one piece. Agate sneaks up on Stella, running on the underside of the crab's shell and appearing behind her with a flurry of blows from his six fists!
Stella Overcome 7-9
She grabs one of his arms and uses his momentum to throw his past her, but it was a scary attack, so her Courage is damaged. Agate tumbles forward, then throws a webline and swings to the other crab. The crab that Stella is on finishes freeing itself from the mirror and shoves the mirror off its back, threatening everyone in the area! Stella and Silk flee back to the Siege tank
Stella Get Away 7-9 avoid harm
Buckle is on top of the mirror and rides it down, jumping off at the last moment, rolling through a cloud of debris, and running back to the tank.
Buckle Overcome 7-9 -> Survivor -> Get Away 7-9 avoid harm
The mirror is bent out of shape, and the other crab is close to freeing itself. Agate can feel his glorious beam weapon slipping away. But there's still a precious gem, and that glowing Platyperson has got to be important. But these enemies have destroyed his great weapon and he's barely touched them. He can't win this fight, not now. He grabs a hidden webline prepared for just such an occasion and is whisked quickly away. The other crab throws its side of the mirro down, completing its destruction!
The Siege Tank leads the two giant crabs back to Bertha and Bernard's castle in a triumphant procession. Bernard thinks Stella was very shrewd to break the deal and attack Agate at night.  He asks for the gem back, since they don't need to give it to Agate anymore.Stella wants to keep the gem to commemorate the achievement.
Stella: Isn't it good to do things for the greater good?
Bernard: Ah, an altruist! How generous and unselfish!
Stella: I mean, it's so beautiful. It would make me happy to look at it.
Stella Talk Sense (wisdom, emotions) 6-
Bernard keeps the gem. The party plans to continue on to the port. Bernard says Bertha can carry them, if they are willing to wait for her to walk up. That sounds like a good plan.
Several days later an amazing sight appears over the rooftops of the port city. A huge flying turtle looms overhead, gleaming spires of ice on its back. It lands, and the gates of a castle open up. Out come two huge crabs, flanking a secret war machine of the Dwarves. Atop this war machine, a mighty beast, eyes glowing, flaming with the heat of the Earth's core!
Buckle is sitting down like a dog, unaware of how cool he looks, and asks amazed onlookers where to find a tavern.
GM note: End of session move.  Three boons. Level up. Heal. Heal. Buckle takes Dragonfire, which lets him kill or destroy anything that's not a Threat To The World. Stella takes Queen Of The Wild, so all Beasts are her Companions. These are very powerful abilities!