Chasing the Sunset is a West Marches-style exploration game using Fellowship 2nd Edition's Horizon rules.
The fellowship: Vestri the Dwarf, Yuri the Outlander
Last time, the Fellowship dealt with a lycanthropy outbreak in the Platyperson town of Bogden. They destroyed a horrible weapon and intend to throw its ashes into the ocean.

Vestri wonders how fellow adventurers came into possession of a sword made from the horn of a peaceful Unicorn. Truly an evil weapon. Now the Fellowship must travel to the sea. A river flows out of Bogden and joins the Mighty River which enters the sea at Port Fennrick. Another option is the ancient Dwarven tunnels that the Fellowship used to reach Bogden. Yuri does not trust those tunnels, since they all nearly drowned down there. Hundrin specifically does not want to go down there. He's mostly recovered from being swept away, but he's a little bit mad.
GM note: I was really hoping that Vestri the Dwarf would go down the Dwarven tunnels and find some important Dwarven things, but the players chose something else! I'll respect their decision, and not move the interesting thing into their path. I'll make exceptions for tone and player comfort, but mostly I want to let consequences play out believably. Not realistically, because this is a fantasy world, but I want it to feel believable.
Vestri suggests walking along the river until they find a town, then buying a boat. Yuri wonders how much money Vestri has. Maybe renting a ferry or working for passage is more practical. They walk to the Mighty River and see a town upstream, to the west, and a port downstream, to the east. A cargo ship approaces, heading downriver. Vestri figures they won't be able to get Gurtin (the Dwarven Drill Tank) onto a ship if they aren't at a port, so they let the ship past and hike upriver to Thaumatown.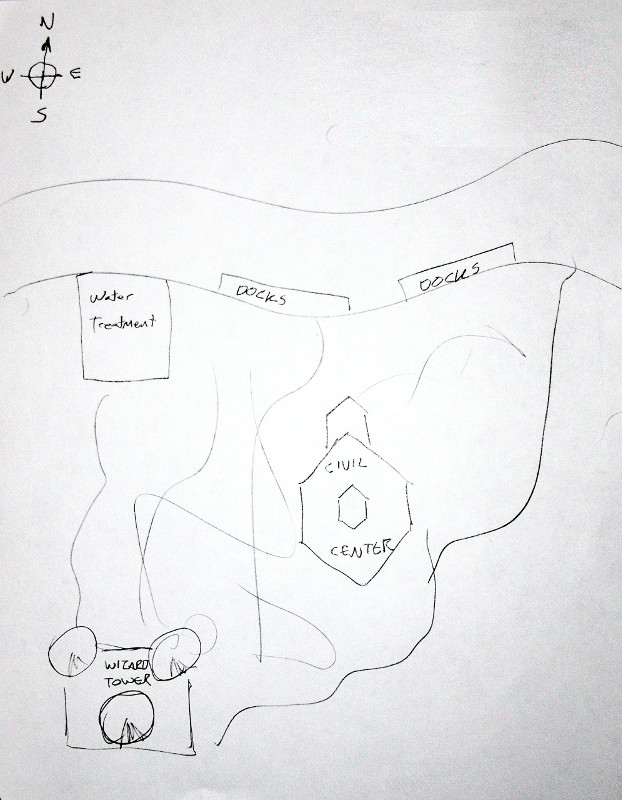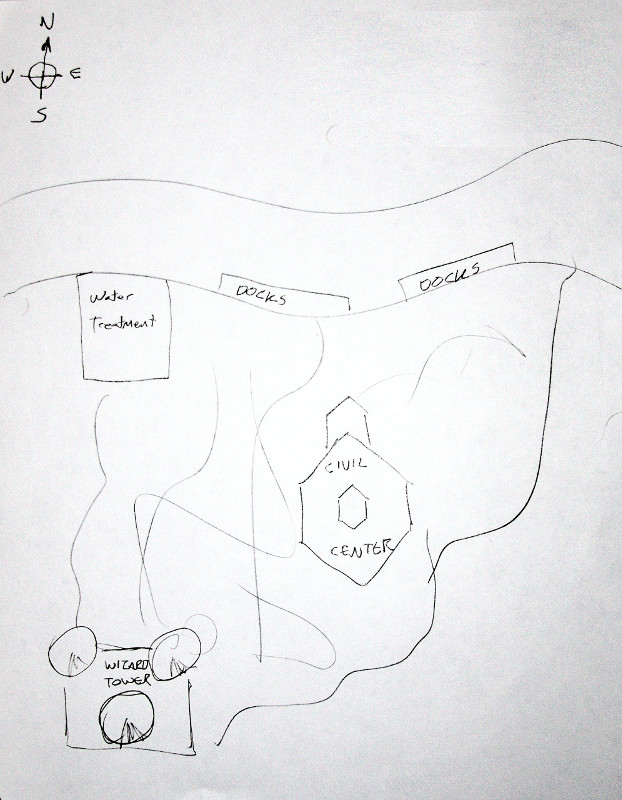 Thaumatown is a creepy, crowded, and ramshackle city with narrow streets and tall buildings looming over them. There's a port here. The cranes for loading cargo are sleek, metal structures, but they are surroundede by wooden scaffolding and ropes connected to teams of oxen and donkeys. The cranes have recently been converted to animal power.
Yuri: This reminds me of Moscow. I like it.
Vestri checks the Adventurers' Message Board immediately.
THAUMATOWN MESSAGE BOARD
Lucia: There may be complications if Brianiac or Redstone return.
Dryden: FYI there is a maze below with recycling bugs
Averiela: Allan a Zham is dead. Walter is a friendly fool. Let the people believe.
Both Yuri and Vestri want to see the maze. Gurtin and Hundrin really want to see the maze as well.
Yuri: We should requisition a boat first, before we go spelunking.
Vestri: We don't know how long we'll be down there, so we should do that first, then get a boat.
Yuri: I would like to get rid of this *looks around* Unicorn Sword.
Vestri reassures him that it's a bundle of ashes, so people won't immediately recognize it. He also plans to leave the bundle at the mouth of the maze, so it won't get lost in the maze. But where is the maze? It's not an obvious tourist attraction. Yuri goes to the docks to ask for directions.
Vestri: Just be sure to secure everything before you go to the docks. What if it breaks under you and you fall into the water?
Yuri: What if the ground fell out from under our feet and fell into, um, space?
Vestri: Stop! You know these humans. Sometimes they build right over the water and then you just fall.
Yuri: You know these dwarves. Sometimes they build right under the ground and you could just fall.
Vestri: Yes, but I hate water!
Yuri: I hate falling deep into the earth.
Vestri: Well I can't breathe underwater and I can't swim. I'm quite massive.
Yuri:Then you should stay on hard ground.
Thaumatown is crowded. The docks are full of people and cargo and the cranes with teams of animals. No one has fallen through into the water. Foremen shout and teams of workers get in each others way. Vestri can't see over the crowd. Yuri considers putting Vestri on his shoulders, but Vestri weighs 350 pounds, so that won't work!
Vestri: I'm depending on you to do the navigation!
Yuri looks for someone with nice clothing who is not bustling around. He spots a fancy-looking blonde human woman named Lucy. She wears a suit, not a dress. She's waiting for her luggage to be unloaded. Yuri walks up to intoduce himself, followed by Vestri, then the Drill Tank, then Hundrin in a little line so they don't get separated in the crowd.
Yuri: Hello, my name is Yuri. It is wonderful to meet you. What is your name? We we wondering if — two things. If you knew a way of travel that might be work for, some kind of work that we could do on the ship, and also if you knew about mazes somewhere in this place. But with the luggage I am seeing I realize you might not be from this place.
Lucy: Oh, I travel a lot. I'm been a lot of places. I can tell you about this town. There's quite a complex under the Civic Center. Look at the clock tower. It's under there.
Two towers dwarf the other buildings in Thaumatown. A hexagonal clock tower in the center of town, and another tower in the southwest corner of town, far from the docks.
Yuri: Are you in need of employees? You seem very important with your suit and all.
Lucy: I am very important. Are you going very far? I'm always ready to make a deal.
Yuri: It's very opportune meeting you. How far are we going?
Vestri: We are planning on going all the way to the eastern sea.
GM note: I realize that I never named the sea on the eastern edge of this continent. The players and I brainstorm names.
Lucy: The Joterkuvain Ocean? That's just straight down the river. You can just get on any of these boats.
Yuri: Is it that simple? Can I work for those boats? Do you own those boats?
Lucy: No, I don't want to get tied down to that. That would be boring.
Lucy was expecting a cooler and more difficult request, and now she's disappointed by these boring people with their common problem.
Vestri:  If you've traveled a lot. Perhaps. You know a story. About a dagger. That looks like this.
Vestri opens his coat a little to reveal the Redrock Dagger, whose twin he is questing to recover. He doesn't pull the dagger out, because he doesn't trust the crowds of humans with this artifact. Lucy is intrigued!
Lucy: Oh, a rare and valuable item! This is very important to you? You seek to gain this item?
Yes! Obviously. It has its twin, therefore they belong together. It has my family crest on it.
Lucy: Yes. Yes! This is very important. I can help you with that. We should talk in a more private place. These goons are delivering my stuff to the best hotel in town. Come with me.
Vestri: I just had a thought. You are very interesting and you clearly like strange places, from observing you in these last moments.  We wish to visit the labyrinth. Perhaps we could speak in the labyrinth. Would you join us in this maze?
Lucy gets really excited when Vestri says "wish". She agrees, yells at the dock workers to take her bags directly to the hotel, and gives them a few extra coins for the trouble.
Lucy leads the Fellowship to the Civic Center. It's a hexagonal building with entrances on each side. The entrances have metal roller doors propped up by wooden frames. The interior is being remodeled. Signs boast about "democracy' and "the council" There's an informational poster: "What do you do when the all-powerful wizard who solves all of your problems decides to leave? We're going to step up and do it ourselves!" Lucy scoffs at the poster, leads the Fellowship through a service entrance, down some tunnels, and into a wedge-shaped room.
Lucy: OK, let's make a deal! Let's talk business.
Lucy drops her human disguise. Her skin turns reddish and she runs her hand through her hair, revealing small horns on her forehead that curve back along her skull.
Lucy: Business Devil

Strictly business. Only forges Bonds that are promises. Will never break a deal first.
Sell your Soul. Will take a Move or Stat in exchange for your heart's desire.
There are Dwarf fairy tales about contract demons. You could do it, but it's not a good idea. It'll go badly. It doesn't stop most people, but the stories are there. In Vestri's family, there's a story about a great-uncle that was entombed alive because he made a deal with a demon. Yuri figures this is just a weird thing that happens in this weird new world. Vestri conceals his discomfort, but Hundrin is shaken and turns around to pretned to fix something.
Vestri: Hold on one second!
Vestri brings Yuri into a huddle. Yuri crouches very low.
Vestri: Come here. Ok. Come talk. This young lady belongs to a species of Demon-kind.
Yuri: Da, Is this bad here, or?
Vestri: They like to make deals with you. They will cost a lot more than you think and will probably end badly for you. But they can do some really cool stuff, I hear.
Yuri: So we want to be friends with them, but not make deals with them.
Vestri: I'm not sure you can be friends with them.
Yuri: Let's find out.  So why are we making deal with you again?
Lucy: Vestri here seeks the other dagger, and I can get it for him.
GM notes: I omit a tangent about Dwarf gender, reproduction, and poop.
Lucy: I can get this for you. I can take it from the person who stole it from its hiding place.
Vestri: No, no! It's fine! It have time to find it. I want it to be an epic journey I can tell my great-grandchildren.
Yuri: How do you have all these powers? I am — curiousity mostly.  How would you grab dagger? How do you know where it is?
Lucy: I have friends everywhere and I can call in favors. It gets complicated sometimes, but that's my specialty.
Yuri: I'm incredibly impressed.
Lucy: You should be.
Yuri: It's not just the suit. You've got something there. Luci Fur. I like it.
GM note: The players guessed where the name came from! Quick, pivot!
Lucy: Actually, my last name is Van Pelt.
GM note: The players thought that a pelt was made of fur. I guess newspaper comics from the 1950s aren't as popular as they used to be.
Yuri: I have no real use for — well actually, could you take me back home?
Lucy: Yeah, yeah, let's see where you're from.
Lucy puts a hand on Yuri's shoulder and stares at him. Yuri is fine with this.
GM note: Does Yuri have a crush on Lucy? I only notice this now, when I'm typing up my notes. Also, it is within this character's power to remove Yuri from the campaign, which Yuri would like, but none of the players want.
Lucy: Oh. OH. You do need my help to get home.
Yuri: Da, da, da! OK, Luci. There is some things that I am in desparate need of doing on this plane. But I would really like to keep your contact information. I think that we really have something here and I would definitely like to make a deal with you at a later date.
Luci's always ready to make a deal. The payment for travel home woudl be a part of Yuri, as normal, but she'd also really like Yuri's sword. It's very interesting to her.
Yuri: When finished with my quest, I will bring the sword and I can almost guarantee that I have no idea what will happen, but I maybe will have the sword, so I will give it to you if I have it.
Vestri: What's your quest again?
Yuri: To save the world? I saw so much pain when I touched the sword. Lots of pain.
Lucy: Oh, don't worry about visions. You can't trust these items.
Yuri: I feel it in my bones that I need to do this. I will definitely get back to you. This is a hard yes, but we need to put it on hold for a few months until I have righted this place. Then you know, whatever you want, we can do it.
Lucy: Is that a promise?
She offers a handshake to confirm the deal.
Yuri: I think we can just have a gentlemen's agreement. A lady's agreement? Being a medical professional I'm very into clenliness. Also I'm from a different plane. I don't want to give you smallpox.
Lucy: Ugh. if you're in a big city, look for the best hotel and I'll probably be there. Come find me when you're ready to deal.
Lucy walks off, annoyed that Vestri and Yuri both obviously need her services, but refuse to actually employ her.
Yuri: I am sorry, Lucy! Thank you for bringing us down here though.
Vestri is glad to be rid of her, worried that she would steal his dagger. Yuri makes the important distinction that she's a swindler, not a thief. This is the entrance to the maze they read about on the message board, so Vestri looks for a place to stash the ashes of the Unicorn Sword. He can't speak to the earth to make a hidey-hole because this facilty has metal walls. There are some chairs along the wall, so Vestri puts the bundle under a chair.
Vestri: I was hoping for something more earthy, but are you ready?
Yuri: Would you like to make a deal on it? Ha, ha, ha, I hope she's not behind us.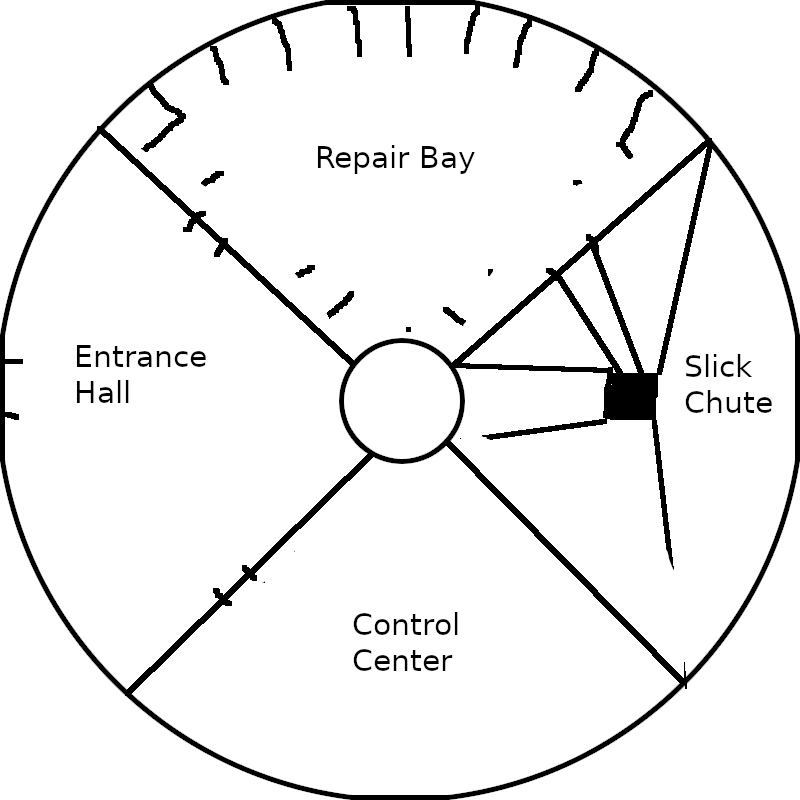 Gurtin the Drill Tank is too big to fit through the doors in this room, so Vestri leaves it in the lobby and puts the ashes inside the Drill Tank cabin. Yuri is worried about Gurtin being stolen, but Vestri isn't concerned. An adult human could not fit in the cabin, which barely fits a Dwarf.
They open the double doors at the point of the wedge-shaped room and find a curved metal wall right behind them. No way through. Yuri bangs on the wall. It sounds hollow, but sturdy enough to that going through the wall would be a pain.  Gurtin could go through this wall, but Vestri considers that cheating at the maze.
Yuri tries the door to the right. There's a room with chairs and metal desks. Cut wires and wear marks indicate that these desks used to hold equipment, but that equipment has been removed.  This room is also pie-shaped, with a door at the point. They open that door and find a small round room with another set of doors opposite the doors they just opened. There's a control panel on the wall of the round room. There's a card in the slot under the red button.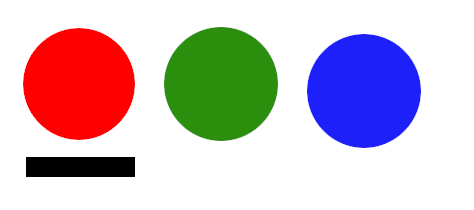 Yuri wonders which button to press. Vestri presses the blue button. The control panel makes a sad beep. Yuri looks through the open doors and sees the room with desks is still there. The elevator hasn't moved. Yuri presses the green button. Sad beep. Vestri removes the card and presses the green button. Angry beep. Yuri inserts the card and presses the red button. Sad beep. Vestri presses all three buttons at the same time.  Angry beep. Yuri presses green, blue, red sequentially. Three sequential sad beeps.  Yuri wonders if taking the stairs would be easier. Vestri removes the card, then inserts the card and presses the red button at the same time. Sad beep.
Yuri Look Closely 10+ ask 3 questions
Tell me about this elevator? How could it hurt or help me?

An elevator gives access to other levels of the facility. It would be quite dangerous for the elevator to move with the door open.
GM note: The players only needed one question to realize why the elevator didn't work.
Yuri, Vestri, and Hundrin enter the elevator, close the door, insert the card, and press the green button. The room shakes! The elevator did something. No stomach-dropping feeling like moving up and down. They open a door and see the entrance hall and Gurtin the drill. The elevator has rotated 90 degrees. Yuri wants to rotate as much as possible before trying the other buttons. They close the door, press the green button to rotate again, and open the doors again. The elevator has doors on opposite sides, so the Fellowship can check two rooms per rotation.
The room to the north has stalls along all the walls and rails on the ceiling where machinery used to go. Like the room with desks, this room has been stripped. There's a square opening on the east wall that's covered in caution tape. That's a trash chute that leads to the eastern room, a slick funnel leading down.
The Fellowship returns to the elevator, closes the doors, and presses the blue button. Sad beep. Red button. The elevator moves. Yuri opens the north door.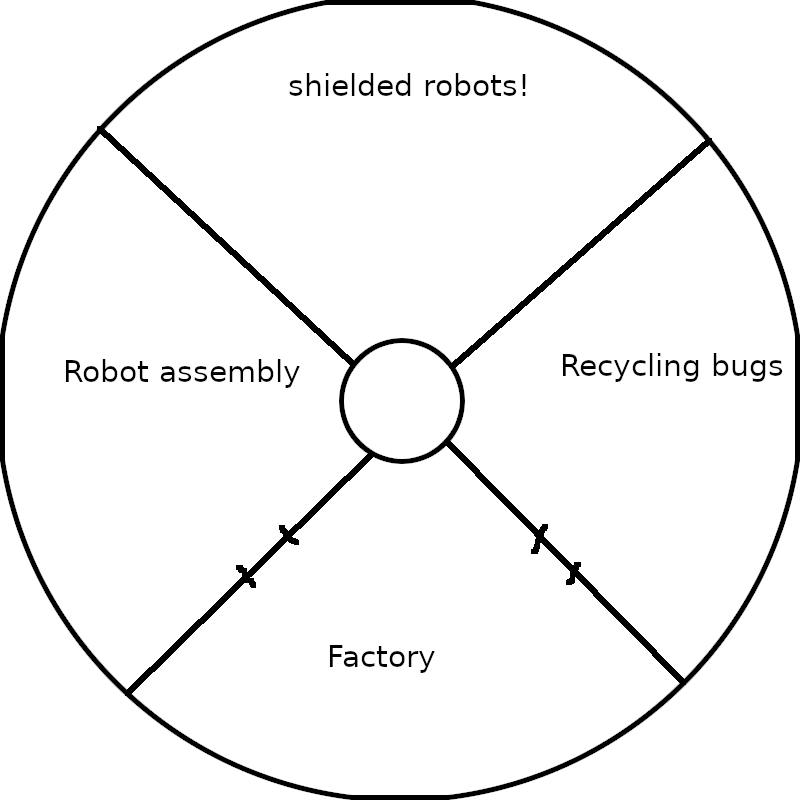 In this room are a stack of robots that have fallen on each other. They are refrigerator sized with armro plates and weapon arms bolted on, like they've been retrofitted.
Vestri: Well, I'm glad we didn't have to fight those!
Yuri wants to examine one, but Vestri wants to close the door. A compromise: Yuri will drag one robot into the elevator, then they will close the door. The robot weighs several hundred pounds, so Yuri can't move it. Yuri looks for access panels, hard drives, something that he can take and research later.
Yuri: Earth is not this advanced to make robots that move like humans. I think this would be a boon for Terrans.
Vestri: For Mother Russia?
Yuri: Mostly for Mother Russia. Yeah, thank you! You are learning!
GM note: After we finish Chasing The Sunset, we could play a D20 Modern game where Russia rolls out with fantasy tech and the players are Western Europeans who have to survive. It's all Yuri's fault!
Yuri Look Closely 6-
Yuri Fool Me Once reroll one die 7-9
GM note: We weren't sure what roll was appropriate here. Yuri only had one question he wanted answered. I fell back on basic Powered by the Apocalyspe design: a 7-9 means a success with complications. So we didn't really play the Fellowship move "Look Closely" but the fudging was done in the open with agreement form the players. Consequences were also tricky. The elevator can't be called away, because the door is open. The robots can't re-activate, because the power source is gone.
Yuri pulls open access panels and finds something useful, but something bangs on the roof of the elevator! There's someone up there! The Fellowship's first instinct is to take the evelator to the top floor, but they don't wnat ot harm the person on top of the car.
Yuri: Get out of — we need to be succinct. Move! Please.
Vestri: Move. Or. Get. Squished.
Voice: Don't tell me about safety regs. You're the ones violating them. Bring the car up.
Vestri: I've never ridden a car. Usually I use a lift.
Yuri: What is car? We will talk when — move or we will squish you. We will be right up.
Yuri conceals the hard drive he took from the robot in his Medkit. They close the elevator door and press the blue button, which does move the elevator up. There's a team of six Humans with backpacks and heavy tools.
Shift Leader: Who are you?
Yuri: We are looking for Labyrinth. This is what we were told.
Shift Leader: This isn't a tourist destination. I thought we, didn't we lock the service doors? You're supposed to be upstairs in the Civic Center.
Yuri: We saw no signs. Wonderful woman led us down here. Thank you for the rescue? I'm confused as you are.
Vestri realizes that Lucy leads them down here was quite suspicious. Several of the salavagers approach the Drill Tank.
Salvager: I haven't seen this model of robot, but I guess we tear it down like the rest of them?
Yuri: No, no, no! Do not touch.
Vestri: That's mine. That's mine!
Yuri: It is a car. It has a name.
Vestri: It's a drill. It's Gurtin.
Shift Leader: Are you trying to take stuff out of here? We have an exclusive contract for salvaging this.
Vestri: We just wanted to explore the labyrinth. We heard there was a labryinth. We thought it would be fun to explore.
Yuri: Would you need extra hands, so we can explore the labyrinth and help you salvage things? Kinda of win-win? I am not taking day wage, I am just looking.
This salvage team is unionized, so they find people trying to work for free very suspicious. The Fellowship doesn't want to meticulously strip a room of all resources. They want to explore. Maybe they can go ahead and find something valuable that the salvage team can have.
Yuri Talk Sense (+Sense, detail plan) 10+
Vestri gets to run the elevator and Yuri will carry loads with the rest of the salvage team. Yuri wants more opportunities to take robot parts so he can figure out how to build his own.
GM note: We'll follow Vestri for a while, but he has a time limit to bring up the load of salvage. Then we'll go back to Yuri and see how he's able to work with the team and sneak some pieces for himself.
The salvage team is working on the room rull of deactivated robots. They show Yuri how to pull of the armor plates and put them in one bin, then mechanical parts go in another bin. The weapons are dangerous. The union has trained and certified two team members, and they're the only ones allowed to touch the weapons. Yuri is happy to avoid the weapons.
Vestri takes the elevator and presses the red button until the elevator stops going down. It goes down one more time, to level 3.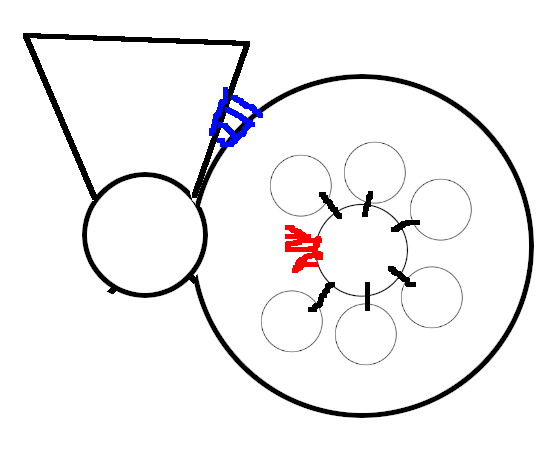 Vestri opens the north door and finds a control room. This room has not been salvaged. The tables have instruments with gauges, and all guages read zero. There's a thick glass window looking to the east into a large circular chamber. There's a ceramic pillar in the center of the chamber. Six metal tanks (for holding fluid) surround the pillar. pipes run from the ceiling into the tanks and from the tanks into the pillar. There's a door into the ceramic pillar which is dark.
Vestri shuts the north door and opens the south door, revealing a wall. Vestri presses the green button and rotates the elevator. He saw what was in the east chamber already, so he opens the west door, also revealing a wall. He goes up one floor and opens the door to the west. This room has tracks in the ceiling that moves things from the south room into this room. Three robots lie one the floor. Two are all spikes and knives. The third has a tank on its back and nozzles under its arms.
Vestri rotates the elevator and looks in the south room.  Conveyor belts, not much of a floor. A dangerous assembly line with crushers and saws, but everything is turned off and nothing is moving. If this room were active, parts would come in from the east, get  assembled into components here, then be sent to the west room.
Vestri rotates the elevator and looks in the east room. The door opens and the room is full to hip-level (for Vestri) with thousands of tiny robots, no bigger than a fist. Like everything in this facility, they are deactivated.  They flow into the elevator like the side of a ball pit was split open. Vestri tries to close the door, but it's partially blocked by a pile of little robots.
Vestri Overcome 6-
GM note: Wait, what is the threat Vestri is overcoming? The consequence of "the door doesn't shut" does not chance the situation. The players admit that they are just messing around and poking things, and are lucky that all the robots and dangerous machines were turned off by another party. I brag a bit about how dangerous the facility used to be.
Vestri gets the door closed, but there's a pile of little robots inside the elevator and the Shift Leader pounds on the door. It's time to pick up a load of salvage. Vestri presses the green button to rotate the door to the north, opens it, and some littel robots fall out of the elevator in front of the whole Salvage Crew. Embarrassing!  There's Vestri shin-deep in little robots. The Shift Leader is disgusted.
Salvager: See? This is why we need union workers with training. What a mess!
Yuri: In his defense, the elevator has three buttons. It is a little confusing. Especially when you are a colorblind Dwarf. Colorblind!
The Salvage Team isn't going to accuse someone of faking a disability! That would be so rude!
While Vestri was exploring, Yuri tried to sneak out some more robot components.
Yuri Overcome 10+
Yuri knows he's going to steal some parts. Not steal! OK, it's stealing. He feels a little bad about stealing from union workers, but it's not his world, so he gets over it. He puts his medical bag in the bin that he thinks will contain the important bits: not armor plates or servos, but computer bits. Each time he delivers a pile of parts, he dumps them into the bin, but half fall into his bag instead. At the end of the shift, he grabs his bag and just walks out. Smooth.
The union won't stiff them on their wages and won't force them to work overtime, but they're upset at the Fellowship for making a mess. Vestri cleans up his mess by scooping up the little robots and throwing them down the trash chute, which actualyl leads to where they came from. As they all leave, the salvage team talks about increasing security on the Robotic Facility.
Vestri: It wasn't that interesting actually. We could have done something cooler today.
Yuri: You were the one who wanted to come down here! We can buy ship fare now, because we have done an honest day's work.
Vestri: I thought it would be more exciting.
Yuri: There was so much! There was a whole science laboratory down there where they manufactured robots. Is this not exciting to you?
Vestri: I mean it's fine, but nothing beats a good old pickaxe against rock.
Yuri goes to the best hotel in town and asks for Lucy. Vestri follows Yuri, but waits at the end of the hall. He doens't like Lucy and wants to make sure Yuri is OK. Lucy opens her door and Vestri thanks her and puts a silver coin in her hand. She puts it in her coin purse, making sure that Vestri can see she has a lot of more valuable coins inside so he knows that his gift is a pittance.
Yuri: You are very still impressive woman each time I meet you. All right, talk to you later.
GM note: Yuri's player has decided what Yuri will do at the end of the campaign when he finally makes a deal with Lucy. Their excitement is contagious!
Yuri and Vestri buy passage on a ship and set off for Port Fennrick.
END OF SESSION MOVE
Did we thoroughly explore a new location?

Yes, the robotics facility

Did anyone find what they were seeking?

No, they both had the opportunity but declined.

Did we discover something new about the world and it's people?

Yes, Yuri didn't know about demons or advanced robots. Also unions.
Two boons: Level up. No gear or stats to heal because they recovered in Bogden recently.
Vestri gains All That Glitters
Yuri shares Fool Me Once with Vestri
new bond: Vestri feels protective of Yuri
new bond: Yuri feels he must parent Vestri
new bond: Yuri is weirded out by Hundrin