Chasing The Sunset & Caramel
Chasing the Sunset is a West Marches-style exploration game using Fellowship 2nd Edition's Horizon rules.
The party: Buckle the Beast/Heart of Earth, Stella the Halfling/Hunter
Yearly Check-In
I asked if my players preferred "dungeons" with dense maps that the characters were stuck in, or loose verbal descriptions. My players said some very nice things:
They've all worked really well because they've been at the level of detail that's appropriate for the narrative.
I like the ability to create long-term companions, but also focusing on a guest character for a time. There's enough depth that it feels like they could come along with us. It's a loss when the NPC is removed, or it's time for them to go. It's that much more powerful when someone does decide to come along with us.
I appreciate the diveristy of characters, getting to know what beings exist and having the world continue to expand as we go to different parts of the maps.
Stella was Taken Out after fighting for three sessions straight.  Do the players find excitement in the possibility of losing? Do they rise to a challenge, knowing that they need to leverage all their Moves effictively to avoid defeat? The players said:
I enjoy the possibility of not winning.
It's nice to have some tough battles sometimes, but not all the time because that would be stressful.
Buckle's player relates being a very powerful character to Doctor Who. The Doctor gets in situations that are stressful. He's such a powerful being that success is different for him. The conflict they likes most isn't when they're not sure if they can overpower their opponent, but where the best outcome is a tricky narrative to wander through. We're going to have a chat, but then Buckle decides he's going to burn the world down. Buckle has Dragonfire which can vaporize an enemy with no roll. It's interesting to have conflicts that need to be resolved differently than violence. When you could just burn the world down it's much more interesting to resolve conflicts in a way that's productive.
Finish Them with Wisdom is always a possibility. Try to lead with that. Like when Theona tried to kidnap Buckle and Stella intimidated her into joining up.
i asked about plots and quests. Did they like the plots that they found? Did they feel comfortable setting their own goals? I intentionally don't include world-ending threats, athougt the Moon could have gone very badly. A sandbox can't have any world-ending plots because then the players must do that, or they don't get to play. The players said:
Buckle's player is missing an over-arching goal. They are going where the wind takes them.
The Moon was a compelling narrative arc, but now it feels like we're not involved anymore. We played a part, but it's not part of our over-arching goals.
Why is Buckle doing anything instead of just going home? There's not a specific thing we have to accomplish for the good of the world.
A long-term goal and a goal with high stakes aren't the same. Buckle's player likes high-stakes goals that are episodic, but the long-term arcs being personal.
Buckle might seek out more Artifacts of Power.
I want his player to feel empowered to pursue that, instead of only responding to plot hooks that I throw out. I don't think Fellowship has a good move for figuring out mysteries. The Dwarf has a move that's close: it allows them to understand a artifact they handle. The players rely on me to scatter enough pieces of information for them to put together into something cohesive. That's a challenge, because mental image to verbal description to hearing and understanding to mental image is lossy at every step.
Does Stella need a goal to strive for? Her player said:
Stella's initial goal (calling the Halfling refugees back home) is out the window because there are populations of Halflings here who are not refugees and don't need rescuing.
Stella's player is letting Stella stumble on a new goal based on what happens in the world. Right now Stella is making sure Buckle doesn't die, which should be easy because Buckle is very powerful.
Buckle's player enjoyed being part of a larger narrative, but not the main character. Another distinction, the scale of a narrative is not the same as the amount of time we spend on it in-game. The Vampire Plot against the Moon is interplanetary in scale (very large), but we only spent a few sessions on it (not that large).  I've made a point to show the effect that other Fellowships have had on the world, but I didn't think of showing a Fellowship what effect they have had on the world.
Mixing big world-shaking events and local squabbles is fun. Both players agree they like side-quests, like last session was just three short vignettes of the Fellowship passing through and helping out with the power of friendship.
I keep the tone pretty light, like a PG-rated family adventure movie, but have a I overlooked any phobias or triggers? Do the players have arachnophobia? No! There's been a Giant Spider in the Fellowship this whole time. It's fun for characters to be in trouble and worried, but players should be safe and comfortable. The players do not report any discomfort.
I'm very happy that the players have said so many nice things. It's important that we line up our expectations so we direct our efforts to make sure everyone has a good time.
Let's start creating fiction in a dense, linear fashion.
Back to the story
Last time, the Fellowship set out on a continent-spanning quest to return Kitty the T-Rex to her home in the Cracktooth Wastes. They are approaching their first big challenge, getting through Vieport, where they are Public Enemy #1, 2, and 3.

Buckle, Stella are Most Wanted for attacking the Sea Viper personally. Hamfast, who used to live in Vieport, will be recognized as a collaborator. if any of these three are spotted in Vieport, the guards will be summoned. The other Companions aren't recognizable. To avoid trouble, the Miranda shouldn't do anything suspicious. Also, the river gets more crowded with ships as they approach the city. The Fellowship wonders how to avoid suspicion. Kitty is a huge dinosaur, Buckle glows, and several people are fugitives.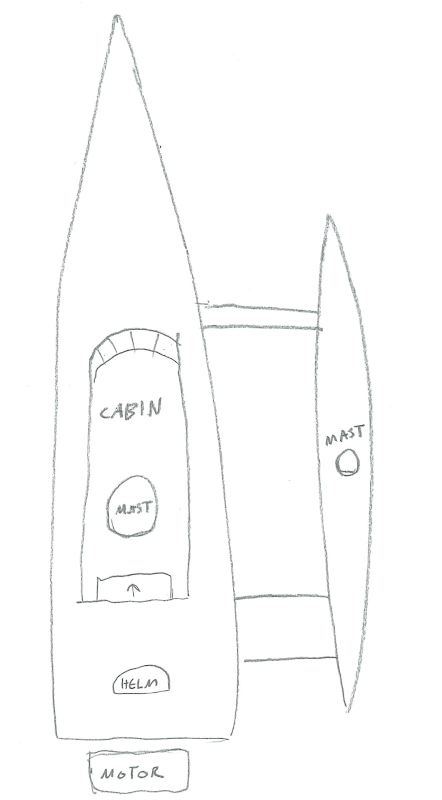 The Miranda has a cabin that fits human-sized characters, but Kitty is 40 long, most of the length of the boat, so she won't fit. Buckle conceals himself in the shower, curled up around the Phoenix egg.  The shower won't burst into flames from Buckle's touch because it's covered in tile and if it overheats, he can turn on the water. The Companions will operate the boat.
A trireme (a Roman-era ship propelled by three rows of oars) comes upstream and will pass the Miranda.
Lookout: There's a dinosaur on that boat! Ahoy! Are you OK? It doesn't seem to be eating you.
Buckle opens the porthole in the shower and looks out with blazing white eyes.
Buckle: Yup, we're all fine.
Stella shakes her head. The boat has a schedule to keep, so it keeps going, but anyone who isn't busy comes to the side to stare. Stella calls out, asking where they are going. This ship is delivering pearls, coral, and fish to Sugar's Crossing. Stella notices that this ship is much bigger than the Miranda, and wonders if they could conceal the dinosaur and the fugitives. The ship is going up to Sugar's Crossing, so the Miranda would have to follow them and wait for them to turn around.  Buckle doesn't want take Kitty back to Sugar's Crossing, since they already had trouble with the local bureaucracy. Perhaps Stella could hail a large ship heading downriver. Lots of traffic on this river. The trireme moves on.
GM note: I don't know how ships work, so I opened Wikipedia in another tab to find other types of ships that might be on the river. Some Roman ships had 300 oars in five rows! Very interesting, but I need to concentrate on the game.

Buckle remembers that Emmett (the Sea Viper's metaphysical advisor) said that the Heart of Earth has the power of life, and might be able to cancel the power of death in the Deathlands. They are passing through the Deathlands now, so maybe buckle should investigate that "power of death". He looks to the shores and sees the ghosts that fill the Deathlands: vague transparent outlines with glowing eyes. They line the shores, unable to enter the water, hoping a boat will come ashore so they can consume the crew. The river is slow and calm this close to the ocean, so it's not cutting a sharp channel through the land.  Pulling a small boat up on the shore would be easy. Off to the east there's a weird purple glow.
The Miranda overtakes a ship that resembles a galleon (those ships from Pirates of the Caribbean) but with a steam engine for propulsion when the wind isn't favorable. The steam engine doesn't turn a screw, it just blasts a steam jet out the stern, so other ships are following far behind it. Buckle is staring at the ghosts on the shore and the purple glow in the distance. He thought ghosts only came out at night. He doesn't notice the steam-powered ship.
Stella steers the Miranda alongside this galleon, named the Hibernia. The ships lookout is a Goblin named Okk.
Okk: Ahoy! Stay clear of the steam jet!
Stella: Thank you for that advice!
She doesn't want to be snarky, but the steam jet is obviously dangerous. She asks about their cargo and destination.  The Hibernia is carrying fresh fruit (from the orchards near the Fire Pits) and sugar (from the mills in Sugar's Crossing).
Okk: Are you some kind of circus? Are you selling exotic animals to collectors?
Stella: You could say we like to put on a show where ever we go.
Stella wonders if the Hibernia could carry Kitty through Vieport and rendezvous with the Miranda in the ocean. Okk can't make those kids of decisions, so he calls for the captain. The captain is an older human man, a bit chubby, with a big hat and a handlbar mustache. He orders the first mate to throw a line over so Stella can come aboard and discuss business arrangements. Stella mounts Silk (the Giant Spider) and Silk climbs the rope, hoping to show she's not someone to be trifled with. If Captain Frost is intimidated, he doesn't show it. He gestures towards the ship's cabin with his right hand, which is a prosthetic with two metal hooks for gripping.  The hooks stick a bit when he opens the cabin door.
Frost; Hmm, I need to get this adjusted. Now we can talk business. What is your proposal?
Stella was going to pay for Kitty's passage with her purse of foreign coins, but now she wonders if Buckle's engineering background could help Frost fix his artificial hand.
Stella: I see that we both have things to be done and we are both busy people. I have a large friend who needs safe passage through Vieport and you have a hand that would serve you better if it were more easy to control.
Frost: Yes, once we're out on the sea and don't need the steam jet, the Tinker can take a look at it. Right now she needs to operate the engine.
Stella: How confident are you that she can fix it?
Frost: She built it. Who would be better to maintain it? So you want to transport this creature that looks a bit dangerous and avoid attention from the Vieport authorities. Why? That's your business, but I wouldn't assume a risk to my ship and my cargo for personal gain. Getting my hand fixed would be selfish.  A captain must think of his ship first.
Stella: What does the ship need? How can we help you?
Frost: Goods that are valuable for trading. Money is always welcome.
The steam jet burns a lot of coal and sounds like a huge, angry jacuzzi.  Vieport doesn't allow the steam jet in town because it's a danger to other ships, so the Hibernia usually hires a tug to get through Vieport. Stella offers two solutions to the Hibernia's propulsion problem. First, the Miranda can tow the Hibernia through Vieport so they don't have to hire a tug. Second, Kitty has a big tail, so maybe they can rig it so she can paddle with her tail from the stern of the Hibernia and propel it.
Stella Talk Sense (+sense, a plan) 7-9 owe them a favor
Frost accepts the bargain. He leads Stella out to the deck and orders the first mate to take Kitty aboard with the cargo crane. The first mate attaches the cargo net because one loop of rope around Kitty would be painful. Stella snaps Buckle out of his reverie so hecan explain to Kitty that these nice peoplee are goingto conceal and she should not eat any of them. Fortunately
Frost calls the Tinker up from below deck to see about using Kitty's tail for propulsion. Tinker is a Goblin covered in coal dust. She pulls up her goggles, revealing two green circles around her eyes. She excitedly bustles around Kitty.
Tinker: Oh, yes, yes. The tail has a round cross section. We could attach a fin. Increase power output 40. 40? 70% Oh yes, very interesting!
The first mate is not excited and concerned only with practical matters. He orders deckhands to re-arrange boxes to make room for Kitty below decks.
Buckle volunteers to stay on the Hibernia with Kitty. He looks Stella straight in the eyes, very serious.
Buckle: Take care of my egg.
Stella had forgotten about the egg.
Kitty sees something on the ghost-infested shore and bolts after it. Perhaps the strange purple glow is calling to her.
Frost Leadership: give orders to crew members and characters with damaged Courage
Frost orders Kitty to stop, but she doesn't listen and jumps off the Hibernia and splashes to shore. Buckle goes after her. Stella runs back to the Miranda to protect the egg. If she forgot about it, maybe her Companions forgot about it, and Gus (the food-loving chef) might cook it! She figures Buckle and Kitty are going overland and calls out to Buckle to meet her on the eastern edge of the city.
GM note: Kitty should follow Buckle's orders since she is his Companion, but that's not narratively interesting, so something is overriding their Bond. Story first!
When Buckle jumps off the ship to follow Kitty, he tries to land on her back.
Buckle Get Away 7-9 avoid harm
Kitty and Buckle enter The Deathlands, an unnatural wasteland, where everything is out to kill you! Kitty is immediately confronted by a Specter, a strange ball of blue energy with tendrils that pick up rocks and bits of debris and hurl them at Kitty.
Specter: These ghostly spirits like to cause trouble, but they are mostly
harmless. They'd rather scare you than kill you.

Spooky: Specters want you gone. If your Courage is damaged while you face a Specter, temporarily replace all of your Agendas with Run Away.
Poltergeist Powers: Specters can lift and throw anything they can see, no matter how heavy it is. Specters can float, and move through walls. Specters do not take damage from weapons of any kind.
GM note: I described the Deathlands' ghosts as hungry for the living and unable to pass water, then picked a Threat that can float and forces enemies to flee. Completely wrong!
Buckle uses his new magical powers to grab the rocks out of the air and throw them back at the Specter!
Buckle Wizardry: Touch, push, or grab as if you were somewhere else
that you can see.
Buckle Keep Them Busy 7-9
Buckle keeps the Specter at bay for a moment and tries to convince Kitty to retreat. A group of transparent, red-eyes ghosts slowly approach!
Group of Deathlands Ghosts: This undead is endlessly hungry, always looking for its next meal.

Hungry: Ghouls are always hungry and will eat anything they can catch. If your Grace is damaged, a ghoul's Cuts against you are Hard Cuts.
Tough As Nails: The first time a ghoul would be damaged or destroyed, damage this stat instead.
Group: Can affect two characters at once. If this stat is damaged or the Ghosts are destroyed, replace these Ghosts with two Deathalnds Ghosts
Buckle Talk Sense (+Wisdom, appeal to emotions) 7-9 owe a favor
Buckle implores Kitty to return to the boat. She was transfixed by something, but snaps out of it.
Kitty: I heard a familiar voice. I heard a family member that I hadn't heard in years, that I though was gone. I heard them!
Now she notices all the undead surrounding her and turns back to the river. The Specter changes tactics and lifts Buckle himself! The Specter throws Buckle in the river, creating a steam explosion! Buckle hits the bottom and starts walking towards the Hibernia with a column of steam above him.
Tinker:  Ahhh! An unprecedented source of steam power! The most amazing thing I've ever seen!
The first mate attaches a metal bucket (used for loading bulk sugar) to the cargo crane and scoops Buckle out of the water. When Buckle is aboard, the bucket is replaced with a cargo net for Kitty. This takes a while, and passing ships stare at the spectacle. Tinker is very excited to examine Buckle. She puts on big welding gloves.
Tinker: OK, I've got the bar of brass and I'll hold it to you and time how long it takes to start glowing, hen reverse-engineer your surface temperature times surface area … total joules per second, no! watts!
Buckle recommends using a thermometer.
Frost: Our opportunity for subtlety is gone! We are surely the talk of all the ships that have passed us.
Stella: Ugh.
Ugg: Yes, ma'am?
Stella thinks Kitty will cause less trouble than Buckle, so her priority is hiding Buckle. Tinker wants to put Buckle in the engine, boosting their top speed to unheard of levels! She gest a piece of slate and starts writing figures. Buckle looks over her shoulder and corrects some arithmetic errors.  Buckle calculates that if he's in the engine, the Hibernia could outrun any ship in Vieport even with the added weight of the Miranda. Alas, a boat towed behind a ship driven by a powerful steam jet would be shredded by the steam jet.  Maybe the Hibernia could push the Miranda by putting its prow between the Miranda's twin hulls. Buckle calculates where Kitty should stand to adjust the center of gravity for maximum efficiency. Buckle and Tinker were to excited to notice, but Captain Frost points out that their new plan is very dangerous and illegal, much worse than the smuggling he agreed to.
Reducing travel time on the river is one thing, but running a checkpoint and incurring the Sea Viper's wrath will prevent them from making the reliable, safe money that keeps the ship going. Stella catches on "running checkpoints is bad" and not "safety and reliability are good" and suggests re-configuring he sails to act as wings. They won't have to go through the checkpoint if they fly over the city!
Frost: Fly? Like some kind of giant turtle? That's ridiculous! We have a hold full of cargo and we can't heave to to retrofit without being eaten by ghosts. This is the worst time.
Buckle wonders about using ground effect to make Hibernia hover just above the water, thereby not technically being a boat, and avoidng the requirement to stop at the checkpoint. Frost thinks it's much simpler and safer for his ship, cargo, and reputation, to not smuggle Kitty.
Buckle: The cargo is not a dinosaur. The cargo is a giant piece of candy shaped like a dinosaur. There was an accident with steam jet and the candy fell overboard, but you managed to save it.
Frost: How will we convince the guards of this story?
Buckle: We'll let them see the dinosaur, which is covered in caramelized sugar.
GM note: This reminded me of the scene from The Iron Giant when the Army shows up at the junkyard and the Iron Giant is disguised as a sculpture. Buckle's player somehow has not seen The Iron Giant but confirms "We're totally Iron-Gianting this."
Frost agrees, but Stella pays her purse of foreign coins for the sugar that will be used in this scheme. Kitty goes below deck and lets Buckle cover her with caramelized sugar, melted by his hot touch. Buckle then hides on the Hibernia under the metal bucket that scooped him out of the water. Stella goes below deck on the Miranda and hides behind the Phoenix Egg. Gus, Hamfast, and Silk are also below deck. Rose is on deck, acting as captain while Ugg operates the helm.
The Miranda and Hibernia reach the checkpoint to enter Vieport. They have to wait for a few ship in front of them.
Vieport

Most Wanted: If Buckle, Stella, or Hamfast are spotted, the guards will be called.
Papers Please: Convince the guards there's no contraband aboard, or they will search the ship.
Heavy Traffic: Whenever the Fellowship maneuvers their boat, they must Overcome the risk of a collision with other boats.
That's My Boat: Secret: de Rolo realizes he was swindled and wants the reclaim the Miranda.
The Miranda pulls into the checkpoint first. Rose has papers for the ship, so they go through without being challenged. The guards have already decided to search the Hibernia, since previous ships told them about the trouble it got into upriver.\
GM note: What is the "hide in plain sight and have NPCs tell convincing lies for you" move? We decide that Buckle will roll Talk Sense. in the fiction, Captain Frost is lying to the Naga Guards, but he's repeating the plan that Buckle invented.
Buckle Talk Sense (+Grace, trick them) 7-9 owe them a favor
Naga Guards: How do we know that it's really candy?
Frost: You can lick it if you want.
Kitty doesn't flinch at the Nagas' forked tongue, but Buckle owes her for making her do this.
Now the Miranda will tow the Hibernia through the crowded channel.
GM note: Buckle's player is a poet: "Here in the ship, with all she's got, here comes Stella pulling a yacht!"
Stella Overcome 10+
Ugg and Rose safely move through the traffic, but de Rolo spots his yacht. He runs down the dock alongside the Miranda.
de Rolo, he/him. human.  Millionaire Daredevil

Sea Patrol: He can fill in for any role on a ship's crew. He also has a pressurized air tank on his back with a propeller on the bottom, so he can propel himself through the water and breath underwater.

Risk Taker: The Daredevil can never have Despair. At any time, they can
damage this stat to succeed at an impossible, high flying stunt, in spite of all
odds against them.
de Rolo: Hey! You cheated me! That's my ship! Give it back!
Rose: Which ship? What does it look like? We can help you look.
de Rolo fumes and storms away.  A few minutes later, there's a commotion from the dock. Tires squeal, bystanders yell and jump out of the way. de Rolo weaves between stacks of cargo, does a cool jump off a ramp, between two masts of a docked ship, and lands this car on the deck of the Miranda!
de Rolo damages Risk Taker.
de Rolo: You sold me a piece of junk and I'm coming back to claim what's mine. And I've brought people to make sure!
de Rolo's not good at speeches. He's a man of action! His people pile out of the car. How did so many fit inside a sedan?
Killer Klown Gang: Mercenaries who dress like clowns, but scary clowns!

Ruthless: Mercenaries have the Dangerous tag.
Bet You Five Coins I Can: When you offer them something Precious if
they do something stupid, a Mercenary will always take you up on it.
Group: can act against two people at once
GM note: It was gettign late, so we ended on a cliff-hanger. Next time, millionaire Jackie Chan and his team of slasher villains will fight a candy-covered dinsaur!
END OF SESSION MOVE
Did we thoroughly explore a new location? They explored the emotional landscape of Samantha's swamp. YES.
Did anyone find what they were seeking? Buckle found an egg to care for. YES.
Did we discover something new about the world and its people? NO
Two boons:
Restore Gear
Heal companions