Chasing the Sunset is a West Marches-style exploration game using Fellowship 2nd Edition's Horizon rules.
The party: Buckle the Beast/Heart of Earth, Stella the Halfling/Hunter
Last time, the Fellowship barely escaped Vieport, after beating up almost every named character in the entire city! Stella fell in battle, and now the Fellowship but find a way to revive her.
GM note: Since Stella is unconscious, her player role-played as Stella's companions. A fun switch, and a good way to keep a player engaged even when their player is Taken Out.
Stella has a Halfing form of diabetes: when she doesn't maintain her blood sugar, she literally falls into a food coma. She was knocked unconscious long enough that she didn't eat, so the coma set in and she never woke up.  He companions Gus, Rose, and Hamfast are all Halfings and are familiar with the disorder, so they explain it to Buckle. She needs special Halfling food, and a lot of it!
Buckle: Of course it involves food. Not even normal-people food.
Buckle consults a map and determines that Sugar's Crossing is north, up this river.  They've been there before, and many Halfings live there. It's a good place to find help.  They left Vieport in the evening, sailing Miranda (the racing catamaran) up the river through the Deadlands. They don't dare drift to shore, lest the bloodthirsty ghosts attack them, so they take shifts at the helm through the night.  Buckle looks out into the darkness and sees hundreds of red dots: eyes looking back!  Far to the east, he sees flashes of purple light and hears rumbling.  Spooky! He wakes Hamfast and asks about the strange phenomena. When Hamfast lived in Vieport, he could walk up to the electric barriers at the edge of town, put his hands up like blinders to block the glare, and faintly see that same purple flashing. He parents told him it was a fireworks factory. He barely notices the red eyes. They remind him of his youth in Vieport, where they were always visible just outside the lightning barriers. Buckle doesn't like being watched. Hamfast pat his shoulder reassuringly, but very quickly, so Buckle's superheated skin does not burn him. Then he goes back to bed.
The next morning, the Miranda approaches a branch in the river. To the west, a clear, deep channel, suitable for large ships. To the east, a marsh. At the perimeter of the swamp, crows sit on trees, evenly spaced, looking out. Rose has the helm and drifts a bit towards the marsh. Silk is scared of birds and tries to stop Rose.  Buckle comes on deck to see what's the commotion. He notices the suspicious crows.
Buckle Wild Speaker: always able to Speak Softly when meeting a beast
Buckle: Hey! What's the fastest way to Sugar's Crossing?
Crow 1: He's polite!
Crow 2: It doesn't matter. Take the channel like civilized folk. Avoid Smantha's domain!
Buckle Speak Softly 6- Ask 3 questions. 1 false answer. 1 unhelpful answer.
What can you tell me about Samantha?

Samantha is the greatest witch! Her power is unrivaled!

What are you doing?

The crows are sentries, insuring that only those who are worthy enter Samantha's swamp.

What should I be wary of when dealing with the crows?

Crow 1 starts to let Buckle in on a secret, but Crow 2 cuts it off.
Crow 2: No, don't tell him! He's exactly who we don't tell!
Buckle wishes them a pleasant day. Rose wants adventure, so she still wants to go into the marsh. Reviving Stella must come first, so they take the channel to Sugar's Crossing.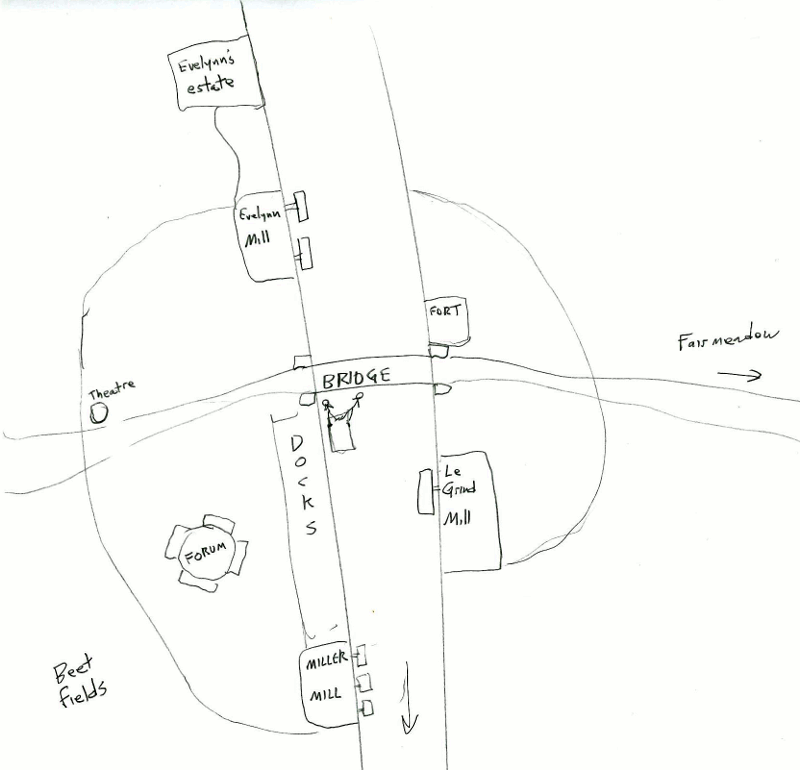 The bridge in the center of Sugar's Crossing is covered in scaffolding! The center span is broken. On each side of the bridge (upstream and downstream) a Giant on a raft ferries road travellers around the bridge. River traffic is slow, weaving past the ferries and scaffolding.  This month, the city's garrison is Elves. Some Elven guards stand on the surface of the river directing traffic, and direct the Miranda to an empty berth. Buckle ties Stella to Silk's back and sets out to find food. Stella's companions don't know anyone in Sugar's Crossing, but count on Halfling hospitality.
Buckle Talk Sense (+Wisdom, emotions) 10+
Buckle: Excuse me, I need to find food for my knocked out friend
The Halfling that Buckle made eye contact with is Mr. Bracegirdle, an actor. He pulls out a snack and wafts it under Stella's nose. No reaction. He recognizes the symptoms of Halfling diabetes. Quite serious, but he knows what to do! He leads the Fellowship towards the theater, yelling in a surprisingly loud voice to for bystanders to clear the way.  He leads them into the back of the theater, where the actors and orators are preparing for lunch.
To wake someone suffering the food coma from halfling diabetes, they must be fed a lot of fruit and carbs. A lot!  The cooks divert half of the food they were about to serve to Stella.  Gus 7 Rose almost prank Buckle into feeding Stella a baby bird. After being fed lots of food, Stella wakes up as Buckle jams a big piece of fruit in her mouth. (Payback for her jamming the Heart of Earth into his mouth)
Buckle: This is awkward, but you're awaaaaake!
Stella: What are you doing?
Stella takes the fruit and throws it at Buckle, who eats it. Stella hasn't passed out in her adult life, so this is a weird experience. Mr. Bracegirdle introduces himself to Stella and explains where she is. Buckle comes up and shakes Mr. Bracegirdles hand.
Buckle: Thank you, Mister Grey Squirrel. What can we do to repay you?
GM note: This joke took me out! Amazing!
Mr. Bracegirdle explains that virtue is its own reward, but the cooks say that half of lunch is gone and the whole theater troupe is hungry. The cooks press the four Halflings (Stella, Gus, Rose, and Hamfast) into service chopping vegetables and kneading dough.  Buckle picks up a pot with his burnign hands and boils it immediately.  When a cook hands Gus an old nicked cleaver, Gus refuses, and pulls out his personal, well-cared for cooking knives. The cooks are impressed! Lunch is late, but with talented help, the food is better than usual. Now everyone in the theater likes the Fellowship.
GM note: The Fellowship needs to recover. After checking a few sections of a several rule books, I determined that Fellowship with a community was not required to Recover, just a week of peace and safety. Thus the Fellowship recovered here in Sugar's Crossing instead of going far east to Templeton or Bogden.
Fellowship Recovers: All stats healed. All gear refreshed.
For the next week ,the Fellowship stays at the theater and rests. Gus teaches the theater cooks some of his ways. Not all, but some. Buckle asks about the bridge. It was broken by a huge mirror falling from the sky. Buckle asks if a Spider took it. Mr. Bracegirdle didn't see a Spider, but a lady knight and a flying man with a big cloak did rescue some people from the broken bridge.
Stella Forges a Bond with Rupert the Chef
They sit in on the free shows about the history of the town and are reminded of hte feud between the Miller and le Grind families. Stella took the le Grind mill tour, but the Miller's don't offer tours of their mill. Old Mister Miller odens't come out of MIller Manor anymore.  Lady Evelynn's arrival shook up the power balance in the town. Her estate and mill are intentionally outside the city limits, so the Mayor can't tell her what to do.
After a week, everyone feels healthy, and the bridge reparis are almost done. The bridge is open to foot traffic today, and if there are no mishaps, carts can start crossing tomorrow.  Stella's ears itch. She needs adventure!They consider going south to Samantha's swamp to talk to those crows again, but decide to go further upriver. Lady Evelynn's estate is visible from the river. After recent events, she no longer offers hospitality to travellers. Guards come to the fence to watch the Miranda pass.
To the north, the rivers goes up into high snowy mountains. To the east, two volcanoes. To the west, a mountain with a slot cut through it. They decide to investigate that mountain, and look for a tributary that will take them near it.
Buckle Look Closely 6- One question, find out the hard way
What will happen if I take this tributary right here?

Buckle steers the Miranda up a tributary which does lead to the slot mountian, but it also gets quite close to Lady Evelynn's estate, and her guards start firing arrows down towards the boat!
Buckle (+hope, Stella's assistance) Get away 7-9 avoid harm
All hands on deck! Buckle steers the boat away from the barrage safely.  Further along, they reach the mountain.  There's a slot cut all the way through from east to west!  There are buildings at various points around the slopes with paths connecting them, but the buildings are clearly smashed! Whatever facility used to stand on this mountain has been sacked!
GM note: A nice relaxing session. Mostly montages. A big departure from the previous three sessions of combat! Even in the same game with the same players, there are many ways to play.